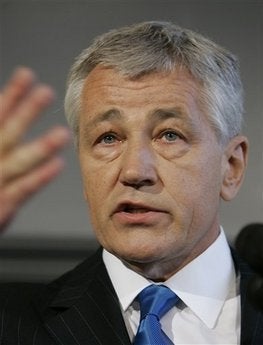 The Democratic chairman of the House Foreign Affairs committee and Sen. Harry Reid both issued statements Friday afternoon blaming Senate Republicans for blocking a sanctions bill targeting Iran.
"Preventing Iran from developing the technology for nuclear weapons is one of the great national security challenges of our age, but thanks to Republican opposition the Senate could not take this step to make our country and our world safer," Congressman Howard L. Berman said. "The sanctions that the United States and the international community thus far have placed on Iran perhaps have squeezed Iran's economy somewhat, but clearly not enough to slow down its nuclear program. The present strategy is not working. I'm disappointed, and the Iranian regime surely must be heartened that the Bush Administration has failed to produce the kind of results we need regarding Iran's nuclear program."
For his part, Reid said: "This bill passed the House with bipartisan support. Similar legislation moved through two Senate committees on a bipartisan basis, and the original Senate bill had 72 cosponsors. Senate Democrats have strongly supported this legislation and had cleared it for inclusion in the Defense authorization bill in September. Unfortunately, Senate Republicans chose to block it at that time."
Among those supporters was Barack Obama. Also, in his speech to AIPAC earlier this year, John McCain similarly called for additional sanctions and divestment from Iran.
Reid's statement continued: "Just yesterday, I went to the Senate floor so that we could pass this critical legislation. We even included an amendment to address the specific concerns of some Republican members. Nevertheless, Senate Republicans continue to block its passage. I am committed to moving this legislation forward. Our security demands that we do what we can to prevent Iran from pursuing nuclear weapons ambitions."
If, given the prevailing political winds on Iran, it sounds strange that Republicans would have blocked a get-tough measure on the Islamic Republic -- there's an explanation. According to a congressional aide who spoke on background to the Huffington Post, Nebraska Sen. Chuck Hagel is solely responsible for the hold on the bill. (Request for confirmation from Hagel's press office was not immediately returned.)
Hagel has long been on record as being less inclined than other Senate Republicans to support sanctions against Iran and other rogue states like North Korea. In a speech at Brookings earlier this year, he also backed the idea of placing a diplomatic station in Tehran.
The independent-minded Republican's foreign policy streak, however, has also appeared to endear him to Sen. Obama. For example, Hagel accompanied the Illinois Democrat during his most recent trip to Iraq.
As a result, Hagel's reported scuttling of an Obama-sponsored bill that touches a hot campaign issue could result in some awkwardness. Obama's Senate staff was not reachable for immediate comment on Friday afternoon.
Popular in the Community