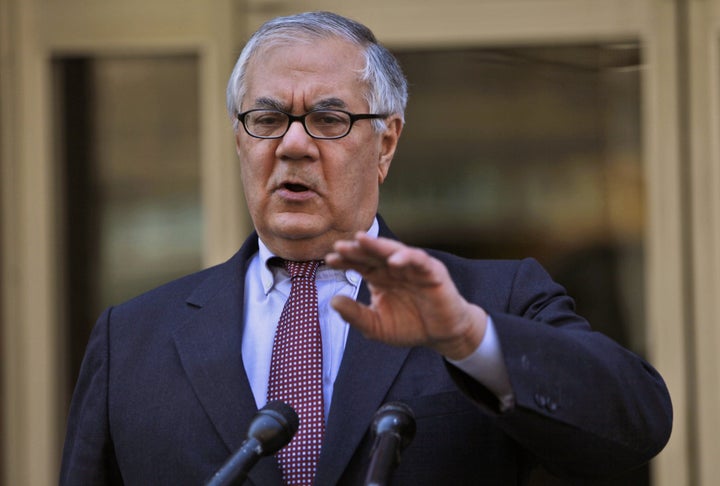 Congressman Barney Frank (D-Mass.), Chairman of the House Financial Services Committee, sent a letter to the White House Friday, demanding the Federal Housing Finance Administration [FHFA] use all the powers at its disposal to recover some of the roughly $150 billion taxpayers lost to Fannie Mae and Freddie Mac through bad loans purchased from private banks.
The missive to President Obama comes just a week after Frank told HuffPost Hill the mortgage giants are all but obsolete: "A year from now, there won't be a Fannie and Freddie. There won't be those hybrids. But you will have the home loan banks. You'll have the FHA [Federal Housing Administration], you'll have Ginnie Mae, you'll have some other types."
As HuffPost Hill first reported, on August 13 Rep. Brad Miller (D-N.C.) circulated a letter among colleagues in support of Ed DeMarco, the acting director of the FHFA, who has led the charge in subpoening banks for passing bad mortgages off onto Fannie and Freddie, and by extension, taxpayers.
Reps. Paul Kanjorski (D-Pa.), chairman of the Subcommittee on Capital Markets, and Jackie Speier (D-Calif.) joined Miller in requesting that taxpayer funds be recovered to the greatest extent possible.
Now Frank too is stepping forward.
With the President set to nominate a new FHFA director, Frank and his colleagues are emphatic that the next FHFA pick follow in DeMarco's footsteps, pursuing all legal paths to limit taxpayer losses.
Frank writes in his letter to Obama:
The losses suffered by Fannie and Freddie have created great cost for the taxpayers--almost $150 billion to date. These losses largely result from business decisions during the bubble years that were honest but flawed. Taxpayers have continued to suffer anew for poor underwriting by these companies during the bubble years.

However, some of these losses result from deception. Private companies sold Fannie and Freddie loans or securities based on fraudulent documents. These transactions created private profits at public expense, and they should be fought with every tool at the companies' and the agency's disposal. These deals must not be allowed to get lost in the shuffle.

I have been pleased at the steps both the FHFA and the companies have taken so far, but it must continue. The extraordinary measures taken to stabilize the financial system over the last two years were done for the benefit of ordinary Americans. We owe it to them to make every effort to make sure that the money is not diverted instead into the pockets of others. I hope you will continue to keep this in mind as you chart the future of FHFA and these companies.
This message puts Frank and other top Democrats at odds with Treasury Secretary Timothy Geithner.
This week Geithner told attendees of a housing finance conference that it is no use crying over spilled milk; the government should focus on fixing the system to prevent a future financial crisis.
"There is nothing we can do to decrease the significant losses Fannie and Freddie incurred ahead of this crisis," Geithner told his audience Tuesday. "All we can do is to minimize the risk that they get worse."
Calling all HuffPost superfans!
Sign up for membership to become a founding member and help shape HuffPost's next chapter