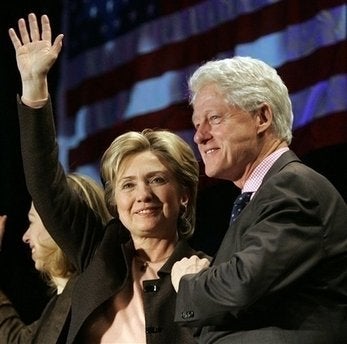 Manchester, N.H. - Hillary Clinton went on the attack against Barack Obama at the Democratic presidential debate Saturday night, but she ran into a tough push back not only from the Illinois Senator but also John Edwards, who took Obama's side and lashed out at her as an agent of "the status quo."
For Clinton, the forum provided her only real chance to stall Barack Obama's momentum before the January 8 state primary. Initially she appeared very cautious, as all the candidates conducted a sober discussion of nuclear and terrorist threats in which there was much more agreement than conflict.
But then, when the discussion turned to domestic policy, Clinton shifted gears to accuse Obama of holding three different positions on federal health care, of voting for the Patriot Act after promising he would vote against it, and of failing to call for federal health insurance that would cover everyone with no exceptions.
Clinton cited a news story contending that Obama "could have three pretty good debates with himself" on health care. "You've changed positions within [the past] three years on a range of issues," Clinton said. In the second half of the debate, she tried to tarnish Obama's claim to be a candidate who will severely constrain the power of lobbyists, noting that Obama's New Hampshire co-chair, Jim Demers, lobbies the New Hampshire legislature in behalf of the pharmaceutical and financial services industries.
"You've changed positions within three years on, you know, a range of issues that you put forth when you ran for the Senate, and now you have changed....you said you would vote against the Patriot Act. You came to the Senate; you voted for it. You said that you would vote against funding for the Iraq war. You came to the Senate, and you voted for $300 billion of it," Clinton declared.
Obama did not appear ruffled by the Clinton assault, stronger than her past rhetoric, and tried to discuss in detail the rationale for his position on health care, but then Edwards stepped in to make a much more aggressive defense both of Obama and himself:
"We [Edwards and Obama] have a fundamental difference about the way you bring about change. But both of us are powerful voices for change. And if I might add, we finished first and second in the Iowa caucus, I think in part as a result of that. Now, what I would say this: Any time you speak out powerfully for change, the forces of status quo attack. That's exactly what happens," Edwards said, clearly identifying Clinton with the status quo.
In a second clear reference to Clinton, Edwards said, "I didn't hear these kinds of attacks when she was ahead."
"I want to make change, but I've already made change," Clinton countered forcefully. "I'm not just running on the promise of change, I'm running on 35 years of change."
As the tension rose, New Mexico Governor Bill Richardson, who was largely on the periphery of the debate, remarked, "Well, I've been in hostage negotiations that are a lot more civil than this."
With just 20 minutes left in the Democratic debate, Clinton revived her attack on Obama, this time challenging his credentials as a reformer:
"You know, the energy bill that passed in 2005 was larded with all kinds of special interest breaks, giveaways to the oil companies. Senator Obama voted for it. I did not because I knew that it was going to be an absolute nightmare....So, you know, words are not actions. And as beautifully presented and passionately felt as they are, they are not action."
Clinton sought to contrast her record with Obama's. "I've been an agent of change. You know, you go back 35 years, you know, I worked to help make the case for the law that, thankfully, required that public schools give an education to children with special needs. I worked to reform education and health care in Arkansas against, you know, some pretty tough odds."
Obama did not directly address her accusations, and countered, instead, by asserting that words do matter: "I think we're in one of those moments right now. I think the American people are hungry for something different and can be mobilized around big changes; not incremental changes, not small changes.... the truth is, actually, words do inspire, words do help people get involved, words do help members of Congress get into power so that they can be part of a coalition to deliver health-care reform, to deliver a bold energy policy."
In a compliment that amounted to a backhanded slap, Obama said "I actually give Bill Clinton enormous credit for having balanced those budgets during those years. It did take political courage for him to do that. But we never built the majority and coalesced the American people around being able to get the other stuff done."
At the Republican debate that preceded the Democratic forum, Mitt Romney, who arrived determined to reverse John McCain's rise in recent polls of New Hampshire voters, found himself repeatedly on the defensive.
The former Massachusetts governor was ridiculed for his past changes of positions, forced to defend a Massachusetts program that requires people to buy health insurance -- the kind of government mandate anathema to many of the conservative Republicans Romney is trying to win over -- and accused of spending a fortune on negative ads "that are not true."

The stakes were high for Mitt Romney tonight, who, after getting walloped in Iowa, is struggling to slow McCain down. Romney will have a second shot at McCain during the FOX-sponsored debate Sunday.
Tonight did not go well for Romney.
First, after former Arkansas Governor Mike Huckabee charged that Romney has shifted back and forth between criticizing and supporting President Bush's policies in Iraq, Romney, seeking to take command, warned Huckabee, "Governor, don't try to characterize my position..." But before Romney could finish, Huckabee, famous for his one-liners, shot back, "which one?" as the audience and the rest of the Republicans on the debate panel burst out laughing.
Later on, Romney was put under cross examination by former Watergate counsel Fred Thompson, who questioned Romney repeatedly about the Massachusetts health care program enacted while Romney was governor.
"Will your federal plan mandate that people buy insurance?" Thompson asked, knowing that he had found a conservative weak spot in Romney's years in Massachusetts. Looking defensive, Romney said his federal play would "not require any state" to require people to buy health care, but, he said, he believes the only way to bring costs down is to make everyone who makes a lower middle class income or better to buy insurance.
When Romney tried to accuse McCain of providing amnesty to illegal immigrants, McCain shot back, "It (the McCain bill) was explained to you and you said it was reasonable and did not require amnesty....You can spend your whole fortune on these attack ads, and it still won't be true."
Then, when Romney contended that the Associated Press has misquoted him in a story describing him as supporting the McCain bill, McCain said "well, when you change from position to position from time to time, you will be misquoted."
Later, as Romney portrayed himself as a candidate of change, McCain told Romney, "We agree on one issue, you are the candidate of change."
An hour before the first of two debates was to begin at Saint Anselm College, CNN and WMUR of New Hampshire released a poll showing Clinton and Obama locked in a dead heat, 33-33, with John Edwards well behind at 20 percent. Despite the poll, at campaign events, the momentum appears to be overwhelmingly behind Obama, who is drawing huge crowds of highly enthusiastic supporters, while Clinton's events are far more modest in numbers and energy by comparison.
A Concord Monitor/Research 2000 poll released just before the debate had very similar results, Obama 34, Clinton 33.
One of the biggest shifts in the CNN/WMUR survey conducted Friday and Saturday was in the ratings of Clinton and Obama's electability in the general election next November 4. Thirty-six percent of New Hampshire Democratic primary voters said Hillary has the best chance of winning the general election in November, down nine points from her 45 percent score in a poll taken before the Iowa caucuses.
Obama virtually tied Clinton at 35 percent, but -- more significantly -- his electability rating had climbed 13 points from the pre-caucus survey.
On the Republican side, the CNN survey show McCain taking the lead, with 33 percent, and Romney, who for months had topped New Hampshire polls, now second, six points behind at 27 percent. The Concord Monitor poll was very similar, McCain 35, Romney 29.
Former New York Mayor Rudy Giuliani was third in the CNN survey, but far behind at 14 percent, followed by Mike Huckabee, the Iowa winner, with 11 percent, and Ron Paul at 9 percent. Fred Thompson, who was once considered the savior of the conservative movement in the GOP, got only 1 percent, tying Representative Duncan Hunter.
Check out HuffPost's comprehensive on-the-ground New Hampshire coverage here.
Popular in the Community