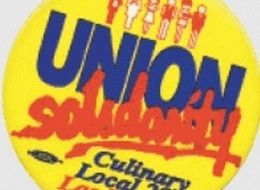 Las Vegas -- Hillary Clinton maintains a wide lead in statewide polls and has tied up the endorsement of the bulk of the Nevada Democratic establishment, but the New York senator has yet to win the nod from the Silver State's powerful movement of organized labor.
As Clinton and her rivals prepare for tonight's much-anticipated CNN-sponsored debate from the stage of UNLV, Nevada's two most important unions are dragging their heels in issuing an endorsement of any candidate.
Senator Clinton is currently leading Nevada's Democratic polls at 51%, almost 30 and 40 points ahead of challengers Barack Obama and John Edwards, respectively. Clinton has also lined up in her campaign corner an impressive majority of Nevada's leading Democratic elected officials. But the brawny Local 226 of the Culinary Workers union, representing some 60,000 casino employees, seems in no hurry to get in line with Clinton -- or any other of the candidates who have been assiduously courting the union vote.
"We will make an endorsement. But we will make it when we are ready," D. Taylor, veteran leader of the Culinary Workers told The HuffPost. "And we're not yet ready."
With its formidable capacity to provide canvassers, volunteers, phone-bankers, voters and strategic political connections, support from Taylor's union is considered one of the top prizes in Nevada campaign strategizing.
Throughout most of this year, the union had been locked in volatile contract talks with gambling industry management. As the possibility of a confrontational strike loomed, Taylor purposefully played hard-to-get, extracting promises of picket-line support from all of the major Democratic candidates as a pre-condition for even considering an endorsement. "Taylor is a brilliant strategist who played his hand perfectly," said one Vegas Democratic insider. "He wisely held the candidates hostage, making them come begging to him instead of vice-versa. It's a lesson that other interest groups might want to learn."
As of this week, the union reached an agreement with all major Vegas employers (with the exception of the Tropicana Hotel) and though the strike threat has evaporated, Taylor said no endorsement was immediately forthcoming. "We're going to catch our breath first," he said. "Let us enjoy eating our turkey before we move on to opening the Christmas presents."
The subtext of Taylor's message: Let the candidates keep performing for us before we decide.
A similar attitude prevails among the Nevada local of America's biggest union, the 1.9 million member Service Employees International Union. After the national SEIU, which had long leaned toward John Edwards, decided last month to leave endorsement to individual state chapters, different locals jumped behind different candidates. But the 17,000 member Nevada chapter still remains undecided.
"We're still trying to figure it out," said SEIU Nevada political director Morgan Levi in an interview in her Las Vegas headquarters. "Truth is, we never really expected the endorsement to be left up to state chapters and we're still working on it."
Meanwhile, SEIU officials say they are being peppered by constant and growing demands from their Nevada Democratic political allies who have already signed onto rival campaigns. "There's all these people calling us everyday," said one union official. "We just feel totally bombarded and pressured to make a decision as everyone knows just how much we have to offer in terms of support."
There's also pressure from within others wings of the union. The half-million member California SEIU declared itself for John Edwards last month and is reportedly impatient to start flooding neighboring Nevada with staff and volunteers to bolster the third-running Edwards campaign.
The Edwards issue has veritably haunted the SEIU since the former North Carolina senator's campaign failed to break out of third place. Sentiment in favor of the populist Edwards and Barack Obama runs as strong throughout the SEIU as does resistance to simply rubber-stamping Clinton. But with tens of millions of dollars and thousands of volunteers in reserve, the SEIU seems in no hurry to get behind a campaign that might be doomed.
At the same time, there's little palpable enthusiasm for front-runner Hillary Clinton. Veteran nurse Michelle Estrada sits on the executive board of SEIU Nevada and, therefore, diplomatically declines to state her personal preference. But her language overlaps that of Clinton rivals Edwards and Obama when she describes what she will be looking for in Thursday's debate. "Openess and honesty," she said. "Our members felt that during the last debate there was a lot of rhetoric in that room. And they felt that Hillary Clinton was not unfairly beat up. She ought to be able to take the heat if she's going to be up there and not complain about it. This what I've heard from just about everybody around me."
SEIU Nevada is likely to finally make its endorsement in early December -- a month before the early Iowa caucuses and six weeks before the Nevada Democratic primary. How each candidate emerges from the Thursday night televised debate could have a key influence on that decision.
In the meantime, Culinary leader Taylor says he won't be going to the debate. "It's exciting that we're in the spotlight. But I've got a previous engagement, a benefit for cancer research."
Calling all HuffPost superfans!
Sign up for membership to become a founding member and help shape HuffPost's next chapter