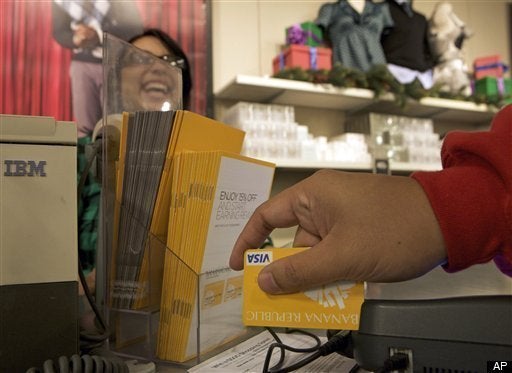 As the fight for Wall Street reform enters its final stage, Sen. Sheldon Whitehouse (D-R.I.) has introduced an amendment to let states cap credit-card interest rates. If it passes, it will close a federal loophole that has long allowed credit card companies to headquarter in states with lax rules, such as South Dakota and Delaware, and charge exorbitant interest rates.
Big banks already suffered a setback last week when Illinois Sen. Dick Durbin's bill that allows the government to oversee debit card transaction fees passed the Senate 64-33. Now the Senate's No. 2 Democrat is hoping for another win.
"Our success last Thursday is evidence that the credit card giants can be challenged and [I] hope that Senator Whitehouse enjoys that same success," said Durbin, a cosponsor of the Whitehouse amendment. "The decision of the Republicans to end their filibuster on financial regulatory reform shows that they see the writing on the wall. America is ready for this."
While major banks and credit card companies are strongly opposed, community banks don't necessarily hate the legislation. "It might be disruptive to community banks that issue cards to customers that have moved out of state or who live in nearby states. But community banks don't have programs that export high rates out of state," community bank lobbyist Steve Verdier told HuffPost.
The American Bankers Association, a top Wall Street lobby shop, doesn't share that ambivalence. "This amendment has nothing to do with the financial crisis," wrote Edward Yingling, president and CEO of the ABA, in a letter to the Senate on Monday. "It would only further burden traditional banks that had nothing to do with this crisis and are already being unfairly punished by this bill."
Whitehouse told reporters it's still unclear whether his measure has enough support to pass. That's especially true if Democratic leaders require 60 votes (instead of 50). "I think 60 makes it a tough slog," said Whitehouse.
"A lot depends on what happens in the Republican caucus," said Whitehouse, arguing that if the GOP listens to its home state constituents who are opposed to sky-high interest rates, his amendment stands a chance.
"If there are members of the [GOP] caucus who want to be in the position of voting for 30-plus percent interest rates for consumers and benefiting big banks, who don't want to uphold the historic protections for consumers by individual states... that could worry people," he said. "If that message reaches the Republican caucus, then I think we have a very, very good chance of passing this amendment. But if the banks continue to control them on this, then I don't think we have a very good chance."
So far the bill has 16 cosponsors, including one Republican, Thad Cochran of Mississippi. Whitehouse said it's likely to come up for a vote in the next several days, but is running up against a wall: A final vote on the underlying bill is set for Wednesday.
Ryan Grim contributed reporting
Calling all HuffPost superfans!
Sign up for membership to become a founding member and help shape HuffPost's next chapter