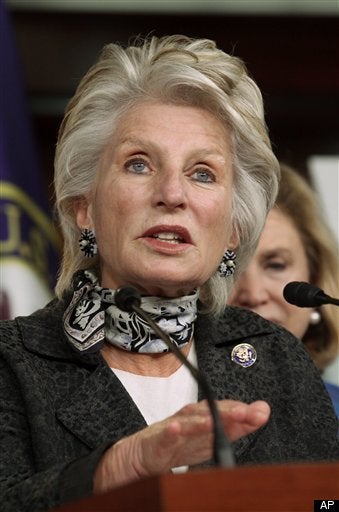 Even after Democratic leadership scaled back its bill to reauthorize several domestic aid programs, reducing its impact on the federal budget deficit by $50 billion, conservative rank-and-file Democrats remain unhappy.
Blue Dog Democrat Stephanie Herseth Sandlin (S.D.) said Thursday that several Blue Dogs are firmly against the bill and that party leadership doesn't have enough votes to pass it, according to CongressDaily.
"People should be embarrassed. We're Democrats," Rep. Raul Grijalva (D-Ariz.) told HuffPost. "We're supposed to care about the people that are unemployed. We're supposed to care about extending health benefits to people that don't have insurance but were working. And in this time of unemployment, and in this time when we're trying to generate jobs, it's embarrassing that a portion of our party feels, out of political necessity, that they have to be the opponents."
There has been no indication from House Speaker Nancy Pelosi (D-Calif.), however, that she will again postpone a vote on the bill, which was supposed to have been sent to the Senate on Tuesday.
"There's a lot of conversation still ongoing here. As Yogi says, 'It ain't over till it's over'," said Jane Harman, a Blue Dog Democrat from California. "I think one of the big issues here aside from the size is the lack of [funding offsets]. I think there's still angst."
"What you're seeing is this excessive stubbornness," said one Dem. "The last person to say no wins."
The bill in question, the American Jobs and Closing Loopholes Act, among other things prevents a pay cut to doctors who serve Medicare patients ("Doc fix" in Hillspeak) and reauthorizes unemployment benefits and subsidized COBRA health insurance, programs set to expire on June 1 without congressional action. If Congress adjourns for its Memorial Day recess without taking action, doctors will see a 21 percent reduction in Medicare payments and hundreds of thousands of long-term unemployed will begin to lose eligibility for their next "tier" of unemployment benefits.
Initially, the bill reauthorized the unemployment benefits for the rest of the year and extended Doc fix for five years; the reduced version reauthorizes the extended benefits through November and does Doc fix for only two years. Those and other cuts reduce the bill's 10-year deficit impact from $134 billion to $80 billion.
"Before, they were touting the jobs created by the stimulus," said Dean Baker, co-director of the Center for Economic and Policy Research, who thinks the focus on the deficit is insane. "Maybe now we should start counting the jobs lost by the cutbacks."
The bill essentially pits the unemployed against investment fund managers and deficit hawks -- a fight the latter groups are winning.
"The situation I see is that members who are from low unemployment areas are very concerned about the deficit. Members who are from high unemployment areas are very concerned about jobs," said Pelosi. "So we have to come to a compromise as to how to move forward and we did with this [bill's unemployment provisions] going to November."
Several Democratic senators have voiced concerns about one of the bill's revenue-raisers, an increased tax on investment fund managers allowed to classify ordinary income as capital gains, which lets them pay less than half in taxes than they otherwise would. But the reduced deficit impact will help the bill's chances in the Senate.
On the House side, too, there is opposition to taxing the fund managers. Harman said she had reservations about closing the loophole and was still educating herself. Rep. Gerry Connolly (D-Va.) said he was worried the tax would harm the commercial real estate market by targeting managers of real estate partnerships.
Regardless, Connolly said, he'll be voting against the current measure because of deficit concerns. "What's dispositive for me is two-thirds of the bill remains unpaid for," he told reporters. "I support the policy. I support extending unemployment insurance. I support providing COBRA for those who've lost their jobs. I support trying to find a temporary or permanent fix to the doctor payment challenge...But what hangs in the balance to me is the whole question of payfors."
The trimming pleased some deficit hawks, though many are still holding out.
"It's much better than it was," said Senate Budget Committee chairman Kent Conrad (D-N.D.). "It's a substantial improvement."
Grijalva, however, said that if leadership cuts too much, progressives could oppose the bill. "It's reaching a tipping point. For myself and I believe other progressives, if those things get stripped, then what are we voting for? There's a Catch-22 no. We've been tolerant of the whittling. Now it's bare bones," said Grijalva, a cochair of the Congressional Progressive Caucus. "Anything further is a real problem for us."
The Blue Dog effort to slash the price tag, said Grijalva, has nothing to do with policy or with a particular number. "I think it's a show of power more than the number. 'We control this process. We control what happens out of the Democratic caucus fiscally and this is what we want.' Some of the more ardent supporters of an extra 600 million dollars for border security don't blink at that. They don't blink at that, because in some theory that's supposed to help them get elected. Well progressives, in order to get elected, we also have to be doing something for regular folk. Who you're going to satisfy becomes a problem for leadership," said Grijalva.
UPDATE -- 3:40 p.m.: Senate Finance Committee Chair Max Baucus (D-Mont.) tells HuffPost that he's working out an agreement on what amendments could be offered by Republicans. Democrats need some GOP votes to break a Republican filibuster; allowing them to amend the bill gives them buy-in and could win support. But it comes at a high cost. The House had been planning to pass its bill and head out of town for the Memorial Day break. If any changes are made to the bill, it could languish over the break as programs and benefits expire.
"We're ready. Soon as the House sends it over. We will pass it," Baucus said. "Gotta work out an agreement with the Republicans on votes. We're going to have to work out some accommodation on amendments."

UPDATE -- 3:58 p.m.: House leadership is meeting to decide how to proceed.
UPDATE -- 6:00 p.m.: Asked if the House would vote tonight, a brusque House Majority Leader Steny Hoyer (D-Md.) said, "we are STILL talking!" as he left the leadership meeting.
Chris Van Hollen (D-Md.) said they were talking with members about possible changes to the bill and could finish up before the break -- but he didn't say they'd vote tonight.
It later emerged that Democrats are thinking of dropping COBRA health insurance subsidies for laid off workers to get Blue Dog support. "It's obscene," Appropriations Chairman Dave Obey said. But it's working: Blue Dog Henry Cuellar (Texas) said he is leaning toward supporting the bill if dropping COBRA and other provisions reduces its deficit impact $60 billion. Rep. John Larson, (D-Conn.) told HuffPost that the COBRA cut is not finalized.
Calling all HuffPost superfans!
Sign up for membership to become a founding member and help shape HuffPost's next chapter