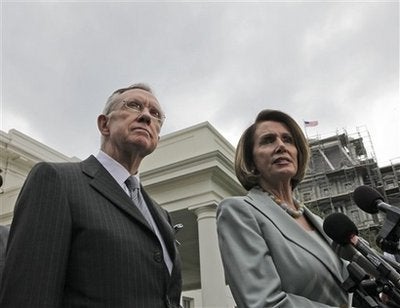 Democratic lawmakers, from the leadership on down, are facing what many describe as an unprecedented amount of political pressure as the party scrambles to pass health care reform.
In recent days, the message has been conveyed throughout the caucus that the failure to pass legislation into law would be a cataclysmic misstep. It goes beyond the certainty that activists in the base would be demoralized, that the president would be weakened or that Congress would seem entirely ineffectual (if not so already). The damage to the party would be so far-reaching, lawmakers have been told, that even the big-time donors who have long supported Democratic causes would be less inclined to contribute.
"The party is on a precipice," said one longtime Democratic donor who asked to speak on the condition of anonymity. "If they pass this [bill], people will be jubilant. If they don't, there are going to be a lot of us who consider just staying home in 2010."
Another big-time Democratic donor and Obama backer, Orin Kramer, was not quite so fatalistic, warning skeptics that the "entire presidency does not rest on one outcome." But even he acknowledged that, at a very basic level, the party risks a period of depression should health care not come to pass.
"Irrespective of what happens there will be a future," Kramer. "But I think from the perspective of the country and the Democratic Party, it is important for this legislation to be enacted."
Messages like these aren't isolated. Party strategists say that members of Congress have been getting these warnings for weeks. Coupled with rising angst among the party base and a mounting hysteria among the activist community, the result is a merging of Democratic forces usually witnessed only during presidential campaigns.
"I have, in the last week, seen folks in the grassroots and the netroots and the donor community threatening to [stop supporting Democrats] if they don't get this done," said Paul Begala, a longtime Democratic strategist who consults many party officials. "You rarely get all three of them together on the same page."
What this means for the actual outcome of health care reform will be clear when the House votes on Sunday. But aides on the Hill and in the White House tell the Huffington Post that the potential for cataclysm has had something of a sobering effect: forcing members to confront the reality that inaction would be far worse than passing and selling moderately unpopular legislation. On Thursday, two lawmakers who previously voted against the bill -- Reps. Bart Gordon (D-Tenn) and Betsy Markey (D-Col.) -- affirmed that they would now support it. On Friday, a third, Rep. John Boccieri (D-Ohio), followed.
Meanwhile, the progressive community that once flirted with the idea of walking away from the whole effort has all but fully embraced it. Rep. Dennis Kucinich (D-Ohio), who told the Huffington Post two weeks ago that he thought passage of the legislation would hurt the party just as much as not passing it, changed his tune on Wednesday and announced he'd back the bill. Others, likewise, have learned that there are benefits (however, painful they may seem) to following the company line.
"Well, it's not so much this abstract notion of whether it's good for the party, but the idea that people are finally starting to game out is: 'Would things be better if you voted no?'" explained Rep. Anthony Weiner (D-N.Y.) "And look, I've compromised my compromised compromise, so I'm a good example of someone who's given up a lot... But I think some of the more moderate or conservative members are starting to realize that they got elected because of health care, not in spite of it. The idea is no longer 'Oh my God, this is such a ridiculous thing that we're doing here. Why aren't we establishing National Pickle Month instead?' I think a lot of these swing Democrats are starting to understand that we have to get serious."
As Weiner sees it, the Democratic base has been far ahead of the lawmakers it voted into office when it comes to understanding the gravity of passing reform. They still are. But clearly, as a vote nears, Congress is catching up. Lawmakers have been told -- in no uncertain terms and by everyone from party leadership to donors -- that Pandora's box would be opened if they let health care fail. And, it seems, they have been sufficiently scared into action.
"It's the same thing as the Tea Party," SEIU President Andy Stern said, when asked to describe the public angst that is compelling Democratic officials to support reform. "Americans are really appropriately frustrated that they have a government that cannot solve their problems, and in many cases, they can't even make a decision, more or less a bad decision. We're seeing in health care the emergence of a passion that the Republicans have had that has not been permissible in the Democratic Party."
Popular in the Community