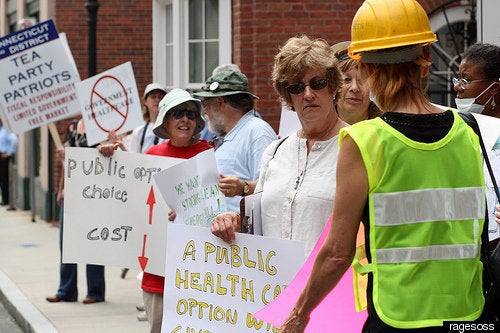 Democratic lawmakers, far from being daunted by the disruptive protests at recent town halls, seem to think the angry crowds will only help their cause.
"When you've got people shouting and hanging Members of Congress in effigy, most people are going to react badly to that. I think most people want to have a civil discussion," Rep. Chris Van Hollen (Md.), chairman of the Democratic Congressional Campaign Committee, told Roll Call. He predicted that the intemperate tactics will "backfire in a big way."
"These disruptions are being funded and organized by out-of-district special-interest groups and insurance companies who fear that health insurance reform could help Americans, but hurt their bottom line," Executive Director Jen O'Malley Dillon wrote Wednesday morning. "A group run by the same folks who made the 'Swiftboat' ads against John Kerry is compiling a list of congressional events in August to disrupt. An insurance company coalition has stationed employees in 30 states to track where local lawmakers hold town-hall meetings."
While no congressman has felt the need to go to the Democratic leadership for help handling the protests, Rep. Gerry Connolly (D-Va.) said that one freshman has been physically assaulted. Rep. Tim Bishop (D-N.Y.) had to be escorted to his car by police after a a June 22 event.
REAL LIFE. REAL NEWS. REAL VOICES.
Help us tell more of the stories that matter from voices that too often remain unheard.