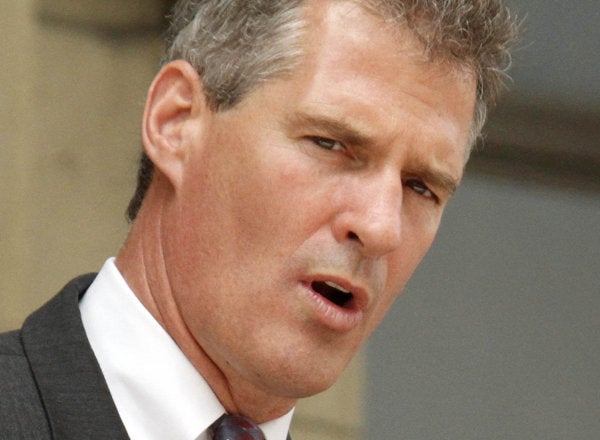 Sen. Scott Brown's (R-Mass) announcement that he will oppose sweeping campaign finance reform legislation has spurred speculation that the bill cannot pass in this legislative session. The Massachusetts Republican was the top target to cross party lines and support the DISCLOSE Act. Democrats on the Hill admitted that they were, as one aide stated bluntly, putting all their eggs in the "Brown basket."
But in conversations following the senator's announcement, strategists working on the legislation insisted that there are additional (though more difficult) avenues for passage. And they pledged to still bring the legislation to the floor in July.
"We are still planning to bring it up," said a top Democratic aide. "We plan to push it because it is too important not to."
"We're going to move forward and vote on the bill," said Sen. Chuck Schumer (D-N.Y.) during a press conference on Wednesday.
For starters, Democrats on and off the Hill haven't written off getting Brown's vote just yet. Reform groups are continuing activity in Massachusetts in hopes of applying local pressure. Leadership isn't cutting off talks with the senator, the top aide stressed. And there is an open question as to whether changes could be made to the legislative language to win Brown over. In particular, there is talk of delaying the implementation of the act -- which would require new and, in some cases, exhaustive disclosure for groups that spend on political campaigns -- until after the 2010 election. This would, theoretically, satisfy one prong of Brown's critique: that DISLOSE is being rushed into law to help Democrats in November. But it would also deeply agitate Democrats on the Hill and reformers within the good-government community, who note that it was the Supreme Court (in its Citizens United ruling) which already interjected the campaign finance issue into the current campaign cycle.
"We are not looking at that and, in the end, it is not our call," said Fred Wertheimer, president of Democracy 21 and a contributor to the language of the bill. "We want the legislation enacted in time for this election."
There is also the question of whether Brown can be convinced to vote against a Republican-led filibuster of the bill even if he ends up opposing the bill on a final vote. The senator didn't specify if he would or would not back cloture in his statement. And a subsequent email to his Senate office wasn't returned.
Even if Brown is completely gone (and the suspicion is that he had to show his conservative bonafides after abandoning the GOP on financial regulatory reform), there are other ways forward. The two Maine moderates -- Sens. Olympia Snowe and Susan Collins -- remain targets.
"A lot of attention is paid to Scott Brown," said another top Democratic aide. "Maybe he will change his mind but obviously Snowe and Collins are still really in play and Snowe was very clear when the [Citizens United] ruling came down that this was going to cause a disservice to the country."
But there has been little indication to date that either Maine moderate is all that interested in working with Democrats on this front. And even if the party were to get Snowe or Collins' vote, they would still need to ensure that no Democrats defect. With plenty of conservatives in the caucus, that calculus is no sure thing.
In short: Brown's opposition to DISCLOSE may not represent its death sentence. But it's a major blow to the bill's chances. There was a reason that aides were so public in pointing to Brown as their best hope for passing campaign finance reform. They were hoping that the pressure would either bring him to the table for direct negotiations or force him to announce his intentions. The Senator still may be brought into negotiations. But the initial hand he played was a setback for Democratic leadership.

Popular in the Community