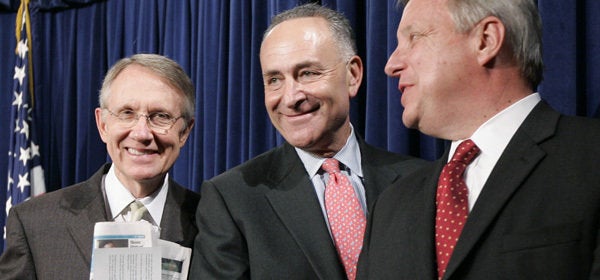 When a party gains Senate seats over the course of two consecutive elections, conventional wisdom holds that the bill is set to come due the third time around.
But even as the media keeps its focus on 2008's lingering Senate contests, there are some early indications that 2010 could be another strong year for Democrats. Republicans will once again be defending more seats (18-15) unless several Democrats retire unexpectedly from the body in the next 24 months.
Jennifer Duffy, an analyst with the Cook Report, says it's shaping up to be another bad year for Republicans. "This does not look to be a good cycle for them," she said. Duffy noted that by the time 2012 rolls around, Republicans may finally win some seats back, since the Democrats will be defending 24 seats, to their nine. "But still," she added, "it's a long, very, very sad road, if you're the GOP."
A Democratic official, who requested anonymity in order to speak candidly about races so far in the future, echoed Duffy's analysis (though with a bit more glee).
In Kentucky, where Senate Minority Leader Mitch McConnell just faced a tight race, Republicans should get ready to do it all over again (and then some) with Sen. Jim Bunning, who won in 2004 by just over one percentage point. "He was sort of a sloth the last time, just barely getting over the line," the Dem operative said. With any kind of national money targeting him in 2010, the operative predicted Bunning, if he were to run, would lose.
The Cook Report's analyst offered some agreement. "Democrats have a bench. But they've got to get the right candidate. The advantage last time was that it took Democrats so long to find a candidate. I don't think that's going to happen this time. I also don't think that McConnell's [victory] forebodes anything for this race."
In Kansas, the Democratic operative said current Gov. Kathleen Sebelius could conceivably run for the seat likely being vacated by Sen. Sam Brownback. "She's already won two statewide elections in a very red state. She'd be the strongest candidate of either party."
Duffy agreed Sebelius would be a strong candidate, but added, "she's probably gonna get a primary" should she run. "Republicans have a couple of House members, of course," she noted, as well as a crowded field in the governor's race that could thin out if one or two Republicans look for less-contested electoral ground. Meanwhile, Duffy is not even convinced that Brownback -- who said he would only serve two terms -- is truly resigning. "Until Brownback definitely says 'I'm out,' and she announces, I have the seat as lean Republican... People have been known to change their minds."
In Arizona, the Democratic operative said "not many people think John McCain is going to run for reelection. If he does, he wins. If he doesn't, Gov. Janet Napolitano could make a very strong candidate." As for Sen. David Vitter, the operative cheekily observed that "going to hookers is never a great platform" to run for reelection on. Duffy said "one of two things likely to happen there: with Vitter, either rational minds prevail, and the seat is open -- or he gets a very serious and competitive primary challenge."
Elsewhere on the map, the Democratic operative said Mel Martinez in Florida, Kit Bond in Missouri, and George Voinovich in Ohio could all face tough races. "Specter isn't getting any younger, and he always has a tough race," the Democrat added. "I don't know if Chris Matthews can beat him, but plenty of others can. It's hard to see who's vulnerable [on our side]."
But Duffy has a couple of suggestions for Democrats to worry about. While she says Republicans have no bench with which to challenge Blanche Lincoln in Arkansas, "Harry Reid's gonna get a race in Nevada, almost no question. I actually think Barbara Boxer's gonna get a race; she sure thinks she is. One of the names bandied about is Schwarzenegger, and there are other names out there. Meg Whitman is looking at it. And Carly Fiorina -- what kind of fun would that be?"
Additionally, if Hawaii Sen. Daniel Inouye were to retire, Duffy thinks the open seat race could be competitive. Meanwhile, there is the question of who Illinois Gov. Rod Blogojevich appoints to fill Barack Obama's soon-to-be-open seat. "I'm sort of interested to see who gets that appointment," Duffy said. "Valerie Jarrett's probably not going to get much of a race. Jesse Jackson Jr. could get a primary from a downstate Dem. And Tammy Duckworth would get a primary."
Finally, though, the gossip du jour, according to Duffy, is that a certain Alaskan Republican could challenge incumbent Lisa Murkowski. "Take a stab in the dark," Duffy said. "Somebody who's already taken on one more Murkowski." She is referring, of course, to Gov. Sarah Palin. In tracking down the rumor, Duffy said she heard that Palin was thinking about challenging Murkowski in 2004 -- to the point where then-Sen. Rick Santorum paid a visit to convince then-Mayor Palin to take a pass. "Lisa's not her father," Duffy said. "She's done a good job. And if Stevens loses and/or is expelled, there's a pretty important seniority argument to be made. My boss likes to say to candidates who are thinking of doing risky things, 'does anybody who loves you think this is a good idea? The answer in this case should be 'no.'"
Overall, despite all the unknown challengers and unknown fundraising numbers, Republicans are facing another tough year of Senate races. "Three cycles in a row, go figure. They're just looking at an uphill climb."
Popular in the Community