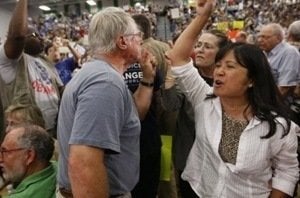 A couple of weeks ago, the New York Times's Jeff Zeleny reported that Democrats were avoiding making town hall appearances in order to avoid the "voter rage" -- that is to say, the angry expectorations of the anti-health care reform set -- that dominated the YouTubes during the run-up to the reform package's eventual passage. The "opportunities for voters to openly express their displeasure," Zeleny reported, "have been harder to come by in this election year."
"Republicans will no doubt be listening to as many voters as possible this August recess, but the question is, how many Democrats will have the guts to do the same knowing full well that they'll be forced to defend policies that Americans have rejected?" National Republican Congressional Committee spokesman Paul Lindsay said.

So far, the answer is: a lot.

Democrats -- and Republicans as well -- have held more in-person town hall meetings this year than they had by this time last year, according to a database maintained by Knowlegis, which tracks Congressional data. Knowlegis is part of the CQ-Roll Call Group.

Through June 16, Members have attended more than 920 in-person town halls, 50 more than the first six months of last year. Democrats have accounted for about 490 town hall meetings; Republicans have held roughly 430.
As Newhauser reports, the best way to measure a drop-off in town hall meetings is to reach back to the 2008 campaign for comparison. During that time, members of Congress "held more than 1,300 in-person town hall meetings through mid-June -- roughly 690 by Democrats and about 610 by Republicans." Of course, I seem to remember there was this big presidential race that year.
[Would you like to follow me on Twitter? Because why not? Also, please send tips to tv@huffingtonpost.com -- learn more about our media monitoring project here.]

Related
Popular in the Community