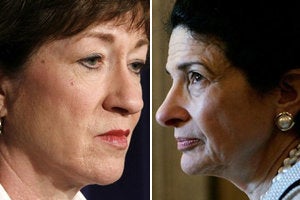 Senate Democrats are targeting their two Republican colleagues from Maine in an effort to ensure a filibuster-proof sixty votes for the stimulus package and, hopefully, produce a wave of bipartisan support for the package.
Aides on Capitol Hill and in Democratic circles say the first target is Sen. Olympia Snowe, the moderate Republican who is known for bucking her party. Should she come on board then Susan Collins, the recently reelected Republican from the same state, could follow suit. Sources predict that the party will get the vaunted 60 votes it needs to cut off debate, but likely not more than 70 (which would require a dozen Republicans voting with the president).
The efforts are part of a larger push by the Obama administration to secure Republican backing for the economic recovery package. The president is scheduled to go to Capitol Hill on Tuesday to visit with GOP officials in the House and Senate.
On Monday, spokesman Robert Gibbs was asked how far Obama was willing to bend in order to ensure that the stimulus package passes Congress by large margins. Gibbs refused to call the meetings on Tuesday as a negotiating session and said that "already there are provisions in this bill ... directly related to suggestions that Republicans have given the economic team, the president of the United States and members of Congress."
On the other hand, Gibbs downplayed the confrontational aspects of the meeting last week in which the president defended his plan by reminding Republicans, "I won."
"This wasn't cowboy diplomacy. This was a rather lighthearted moment in the meeting," Gibbs said. "Because of that bipartisan dialogue," he also said, "we will create a better economic recovery package for the American people when all is said and done."
Not everyone is so convinced. On the Hill, rumblings are slowly emerging from progressive circles that the stimulus package gives too much away in tax cuts when spending projects would produce more jobs. Asked if the composition of the legislation would change -- whether Obama would shrink the spending projects that have drawn Republican ire, or lower the amount of tax cuts in the package -- Gibbs said that "the range of funding that we have now is an appropriate range." But, he added, the president reserves the right to "tinker under the hood with some of the specifics."
Many of the proposals currently being debated were ones that Obama campaigned on during the last two years. Moreover, the current makeup of the package makes it difficult for Republicans to explain their opposition.

"The tax cuts were always a pretty serious part of his campaign," said one high-ranking Democrat. "He was always out there on it.... If you had just put forward a package with only spending, it would have been easy for [Republicans] to vote against this. This doesn't let them do that."

Popular in the Community