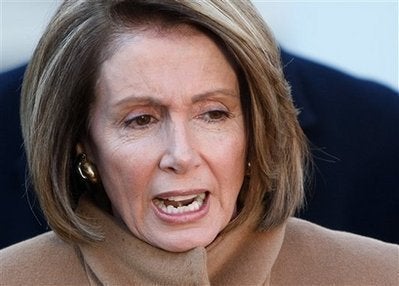 Rank-and-file Congressional Democrats had been willing to give Republicans the business tax cuts and other provisions they wanted in the stimulus. That is, up until every single one voted against the bill on the House floor Wednesday.
Now, in both the House and the Senate, angry members are lobbying Democratic leaders to yank those tax breaks back.
House Speaker Nancy Pelosi (D-Calif.) was asked Thursday by the Huffington Post why the business tax cuts, whose purpose was to garner Republican support, would be left in the bill if no Republicans supported it regardless.
"That's what my members ask me," said Pelosi. "It wasn't something that was suggested [by Democrats]. It was a heavy lift for our members, but they understood that it has a benefit and were willing to support it."
So far, she said, she has been resistant to removing the cuts from the package. "It's something that we can live with," she said. "I can't answer why they wouldn't vote for this even though their main net-operating-loss carry-back suggestion was part of the tax cuts."
Majority Whip James Clyburn (D-SC) said that Democratic leadership was still willing to work with the GOP. "I've heard that discussion," he said of the push by Democratic members to take back the business tax cuts and include provisions, such as funds for family planning, that were eliminated due to Republicans objections.
Clyburn said he was still standing behind President Obama's call for a bipartisan approach.
Democrats on the Senate side, who witnessed the Republican shut out in the House, have had similar feelings, said Majority Whip Dick Durbin (D-Ill.).
Asked if Democratic leadership would revoke the Republican provisions of the bill, Durbin said that "we haven't reached that point, although there are many Democrats who are saying, 'Let me tell you: We included things in this package to bring in Republicans. It didn't work in the House. They didn't get a single Republican vote.'"
For now, said Durbin, Democrats haven't yet pulled out Republican provisions or asked the GOP to leave the table.
"We haven't reached that point," he said. "In fact, Republican senators I've spoken to today said, 'Don't give up on us. We still want to work with you.'"
Popular in the Community