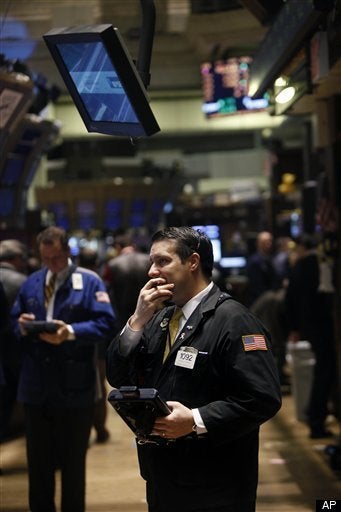 Democrats reacted possessively on Thursday to Republican Minority Leader John Boehner's effort to persuade JPMorgan Chase CEO Jamie Dimon that the financial industry should be giving Republicans money rather than Democrats.
Boehner's overture to Dimon, in which he made the case that Republicans better represent the industry's interests, was reported by the Wall Street Journal this morning in a story about how GOP fund-raisers are trying to capitalize on bankers' regrets over backing President Obama.
Dimon "has to decide for himself who deserves his support," Rep. Henry Waxman (D-Calif.) told HuffPost. But, he said: "I don't think Boehner or any of the Republican leadership have a grand claim to make."
Waxman, chairman of the Energy and Commerce Committee, said he could think of two specific examples offhand of why Wall Street is better off with Democrats: the bailout and the stimulus.
During the bailout debate, Waxman said, Dimon personally called Waxman and "impressed upon me how much he needed." It was delivered with bipartisan support, said Waxman, but the GOP now wants "to divorce themselves from Bush's bailouts." The retreat is "quite opportunistic," he said. "You would think that none of them voted for it."
Waxman also noted that despite economists of all political persuasions arguing for its necessity, as well as the lobbying efforts of Wall Street and the Chamber of Commerce, not a single House Republican backed the stimulus and only three GOP Senators stood with it -- one of whom is now a Democrat.
As a result of the bailout and the stimulus, 2009 became a lucrative year for Wall Street.
But, HuffPost asked Waxman, isn't there some political danger in arguing that your party deserves Wall Street support?
"I guess Mr. Boehner doesn't agree," he said, adding that Wall Street support isn't given unanimously to Democrats. "There are people on Wall Street who support Democrats and people on Wall Street who support Republicans. That's true of a lot of sectors, including Wall Street."
Sen. Frank Lautenberg (D-N.J.) also said that his party deserves the support of the industry based across the river from his home state.
Wall Street, he said, shouldn't run from Democrats because of some heated rhetoric, but rather should look at the bigger picture.
"Criticism of a group or organization has to be weighed in terms of the total context," he said. "When you see someone like Dimon, who's a pretty outstanding business leader, I can't imagine that he's going to want to be isolated from the Democratic presence. That doesn't bother me."
But isn't arguing that you deserve Wall Street support politically perilous? "I think that's harmful to their interests, but I'm not their doctor," said Lautenberg.
HuffPost clarified that the question was about Democrats fighting for Wall Street support. Isn't that the wrong message? "I don't think so. I think that unless there's some really egregious behavior, I think that they should support us and I think that we should be willing to accept their help," he said.
Rep. Mel Watt (D-N.C.), the chairman of a Financial Services subcommittee, told HuffPost that "there is no Republican or Democratic slant to" Wall Street issues.
"The great thing about the Financial Services Committee and those issues," he told HuffPost, "is that they are not partisan. Unfortunately, Republicans have tried to make it partisan by stacking the committee with ideologues.
"I just think it's unfortunate that everything has become partisan," he said.
HuffPost suggested to Watt that Republicans have traditionally been known as the party of Wall Street and moneyed interest, whereas Democrats are thought of as representing working people and the middle class. Isn't there something to that?
"There's always that perception out there," he said, "but when it comes down to the rubber meeting the road, we've got the whole range of ideas in our party. They just have ideologues."
Boehner, he said, was doing a disservice by perpetuating the perception that the political approach to Wall Street is partisan. "For Boehner or any of the leadership to try to make this about party purity adds to the sinister perception that this is just about one party fighting another rather than individual members just fighting for what's best for the nation," he said.
Some Democrats elected not to wade into the Wall Street waters at all. "I'm not going to comment on that," said Sen. Chuck Schumer (D-N.Y.), heading into a meeting.
"There's too much politics around here," assessed Sen. John Kerry (D-Mass.).
Rep. Barney Frank (D-Mass.), however, recognized the political blunder that Boehner had made. "Can I help him say that? Can I buy him some national TV time to say that?" Frank told HuffPost of Boehner's argument. "I'm surprised that John thinks that's a good message, but he's free to make it. Frankly, I'm glad that he's being that honest."
Frank is chairman of the House Financial Services Committee, which passed sweeping reform at the end of 2009 with zero GOP votes. The bill then passed the House with no Republican support. "The fact that he wants to take credit for keeping the status quo and opposing any kind of reform of derivatives or consumer abuses -- I'm sorry that's his position, but as long as it is, I'll help him publicize it," Frank said.
Sen. Jeff Merkley of Oregon, a freshman Democrat who's been tough on Wall Street, said it shouldn't be about winning their support. "My orientation isn't about what is or isn't going to make money for Wall Street or result in their support or not their support. My orientation, and I hope everyone's orientation, is how do we get the right rules of the road so we take inappropriate risk out of the system and create a system that will work and build the wealth of American families," he said. "Hopefully that will be in the long-term interest of everybody."
The Democratic National Committee also recognized an opportunity. "The GOP's brazen appeal to Wall Street for campaign contributions in exchange for Republicans' vow to block financial reform is a new low for Congressional Republicans who've already seen their brand deteriorate over the last year as a result of their continued insistence at putting the interests of Wall Street over the needs of Main Street," said Chairman Tim Kaine in a statement.
Rep. Paul Ryan (R-Wisc.), asked about Boehner's argument to Dimon, said that neither party should be gunning for such support. "We need to be the party for transparency, clean rules, and a pro-market, not a pro-big business party. I am worried about crony capitalism and sort of the casino-style capitalism we've had on Wall Street...I'm very worried about both parties succumbing to that stuff," he said.
"I worry we're going to embrace the agenda -- this is what I think the Democrats are doing -- of supporting big businesses at the expense of small businesses. Nothing wrong with big business. I want every business to become a big business. But we shouldn't help them erect barriers to entry against competitors."
Democrats on the Hill may be taking their cues from the president. On Wednesday, when Obama addressed Senate Democrats, Sen. Blanche Lincoln (D-Ark.) asked Obama if he would push back against the party's progressive wing - "people who want extremes," as she put it.
Obama responded with a stirring rebuke of her plea that he moderate his agenda. But with the next breath, he noted: " Blanche is exactly right -- we've got to be non-ideological about our approach to these things. We've got to make sure that our party understands that, like it or not, we have to have a financial system that is healthy and functioning, so we can't be demonizing every bank out there."
Obama then took it a step further. "We've got to be the party of business, small business and large business, because they produce jobs," said the Democratic president, before taking a swipe at the New Deal. "We've got to be in favor of competition and exports and trade. We don't want to be looking backwards. We can't just go back to the New Deal and try to grab all the same policies of the 1930s and think somehow they'd work in the 21st century."
The foundations of the New Deal were Social Security and unemployment insurance, as well as tough regulation of Wall Street. Obama did not elaborate on why such policies are incompatible with the 21st Century.
Wall Street doesn't have to distance itself from Obama while backing Republican candidates in the mid-term election, argued Sen. Richard Burr, a Republican from North Carolina, home to Bank of America. "It's fact that Wall Street overwhelmingly supported this administration and that was quite a departure from their past contributions, which were more evenly balanced. I think [how] I interpret John's comment that he made, was this election cycle's about members of Congress, House and Senate. And that's where the legislative work is done. So this is not a referendum on the president or on the administration," Burr told HuffPost.
The financial industry, he suggested, "need[s] to get back to looking at the power of the solutions and who's proposing them. I think John again states fact, if you look what Democrats talk about: 10 percent tax on banks and companies that have bank holding companies. Personally, I think it's counterproductive if you do that and then say we're going to have a jobs program, because the two offset themselves."
Wall Street, in coming back toward Republicans, would be thinking long-term, Burr said. "I think anybody, whether it's Jamie Dimon or anybody on Wall Street, they should look at the individual candidates, what they stand for, their background, so they can better understand what they believe, because this is a long-term deal. There is no short-term fix to the financial problems that we still have. We're going to continue to unwind for a decade," he said.
Jeff Muskus contributed reporting

Related
Popular in the Community