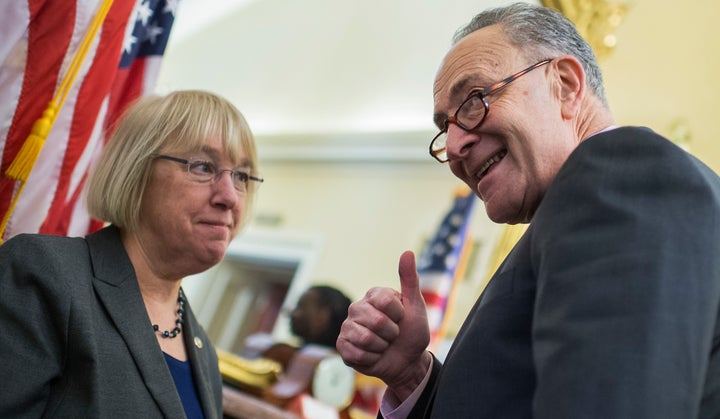 WASHINGTON ― President Donald Trump, health care failure is not your only option. You can still work with Democrats to repair problems with the Affordable Care Act, top Democratic senators said Thursday.
Confronted with simmering rebellions from both conservative and moderate Republicans in the House, the bid by Trump and House Speaker Paul Ryan (R-Wis.) to repeal and replace Obamacare looks increasingly doomed.
That has led some Republicans, including Trump himself, to suggest in recent days that perhaps the law could collapse on its own, and then Democrats would have to come up with a solution.
"Here's what I would tell the president: If you can't get a better deal and if you can't protect that 62-year-old worker in Greenville from having dramatic premium increases because Democrats won't work with you and you can't get the Republican Party on board, stop, take a time-out, let it collapse," Sen. Lindsey Graham (R-S.C.) said on MSNBC's "Morning Joe." "Then turn to the Democrats and say, 'This was the system you created. It has collapsed, now help me replace it.' That's what I would do."
There is one large problem with the Obamacare "death spiral" theory, and that is that the recent Congressional Budget Office analysis of the GOP's replacement plan found the Affordable Care Act is not in danger of collapse.
Still, Democrats contacted by The Huffington Post said they nevertheless would be willing to work across the aisle to fix the problems that do exist in the individual insurance markets created under President Barack Obama's signature law.
Trump just needs to end his mission to destroy the entire legislation.
"Democrats have tried for years to get Republicans to work with us on ways to get more people covered, make health care more affordable, and improve quality of care ― but before that can happen, Republicans have to step back from the precipice and drop their reckless, politically motivated repeal efforts," said Sen. Patty Murray (D-Wash.), the top Democrat on the Health, Education, Labor and Pensions Committee.
"And to be clear, the time for Republicans to back away from Trumpcare and its devastating consequences is now, not after tens of millions of people have lost their coverage," Murray added, referring to the CBO estimates that Trump's repeal push would cost 24 million people their insurance by 2026.
Senate Minority Leader Chuck Schumer (D-N.Y.) and Minority Whip Dick Durbin (D-Ill.) come out in a similar place as Murray.
"We have long said we would work with Republicans to improve the ACA if Republicans will drop repeal. But they have to drop repeal first," said Schumer spokesman Matt House.
"Durbin has said repeatedly that if the Republicans take repeal off the table, he will pull up a chair," said his spokesman, Ben Marter.
That might not necessarily be what Republicans have in mind, however, should their Obamacare repeal efforts fail. They might prefer to sabotage the law as much as they can, then try to blame Democrats for its failure, as Democrats say the GOP is already doing.
Murray said she thinks Republicans have already tried to hamstring Obamacare to such an extent that the law might already be more properly labeled "Trumpcare," since it is no longer the bill passed in 2010, and Health and Human Services Secretary Tom Price is contemplating more ways to hobble the original legislation.
"Even if Republicans can't jam Trumpcare through Congress, make no mistake that they'll create it by sabotaging the current health care system, step by step," Murray said. "We've already seen it start to happen ― and Democrats will be ready to hold Republicans accountable and make clear exactly what's going on and who's responsible."
The point is a key one. If the CBO is correct, and Obamacare is actually stable, the GOP's only option to kill the law would be to try to undermine it.
And Democrats say all the talk of collapse weakens the GOP's ability to carry out that sabotage in a manner that won't be painfully obvious to the public and easily highlighted by Democrats.
"Openly discussing sabotage of the insurance market doesn't seem like a good PR strategy for a party in full control of government that can't even accomplish their signature policy goal," said one senior Democratic aide.
If the repeal-and-replace gambit fails, and the public is prepared to blame Republicans for ruining the insurance markets, those offers by Democrats could start to look pretty good to a president whose entire agenda could be infected by a fatally flawed health care plan.
"If the GOP's repeal bill fails, they can and should work with Democrats to improve the ACA," Durbin spokesman Marter said.
Popular in the Community