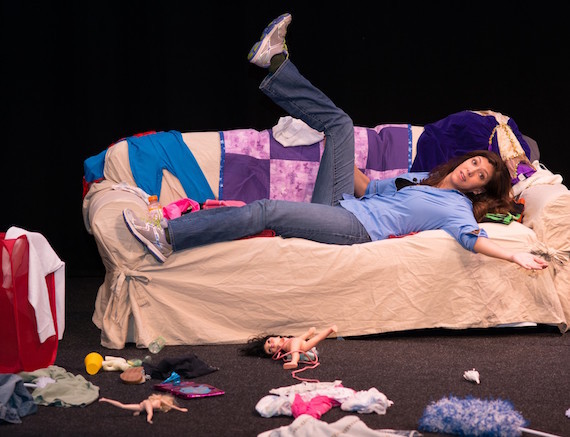 Thirteen years ago, Dena Blizzard -- the 1995 Miss New Jersey with a graduate degree in gerontology -- had just given birth to her second child, when her approaching 30th birthday hit her hard. "I thought my life was over and I was going to die soon." To cheer her up, her husband Jim surprised her with the birthday gift of her dreams -- classes in standup at the Comedy Cabaret in Northeast Philadelphia.
How funny was she? "I was awful, but I loved it." Her teacher disagreed. "In exchange for (doing a mumbled verb I couldn't decipher over the telephone) customers, I got to perform for five minutes on stage." I couldn't believe my ears and ask if she'd been seating or breastfeeding customers? "If I'd been breastfeeding customers, I'd have demanded at least ten minutes on stage," she assured me.
"Standup was the only thing I wanted to do, but I was uptight, afraid of being embarrassed if I wasn't funny." She got over that when her two-year-old son "had a fit that wouldn't stop at a mall. I didn't want anyone to know I was with him, so I crouched down and hid between the displays in the China department and realized that being a Mom was more embarrassing than not being funny."
When Dena's husband's reserve unit was activated, she was left alone with three kids and a body that that was treated like community property. "One of my children was always touching me. At least doing comedy let me be around adults, But club audiences were horrible. Guys yelling, "You suck! " or "Show us your boobies!" But Dena persisted and within three years she was performing at Comedy Stops in Atlantic City and Las Vegas and had started writing a one-woman show about parenthood that acknowledged that while children may be a blessing, being around them too much can get on a person's nerves.
Better paying, steady gigs like her own radio talk show and warming up audiences for TV hosts like Nate Burkus, Anderson Cooper, Katie Couric and Paula Dean put Dena's script on hold. "Anderson was a mentor. Working with him was like taking a Master Class in communication." She worked for Couric briefly, then trained her own replacement before switching her own ambitions to the front burner. Laughter and applause welcomed her parenthood comedy material all over the United States. and it eventually became One Funny Mother which just opened at the most Broadwayish Off-Broadway Theater for an open-ended run accompanied by a half-page Q&A with Dena in the Arts Section of The New York Times.
Dena Blizzard is a world-class US household goddess, a member of the band begun by Erma Bombeck and branded by Roseanne Barr. She's observational but more openly sexual than Bombeck and less aggressive and angry than Barr. Being thin and pretty may have been a big help. Dena puts her "crazy" out there for you to equate with your "normal." Or as our neighbors South of the Border might say: Su loco es tu loco.
The One Funny Mother set, conceived by Creative Consultant Carl Andress, looks like a maternal nightmare discarded by a Bob's Discount Furniture outlet. Every horizontal and most vertical surfaces are strewn with wrinkled baby garments that need to be folded and sorted. Arghh!! How does Dena bear it? The teensy hidden bottles which Mom pulls out of nooks and crannies, and from which she intermittently sips, offer a clue. Because I consider the verbs wash, iron and fold four-letter words, Dena's activities filled me with unbearable tension. Would she finish folding and sorting all those shmattas before the curtain fell? No matter. The words that accompany the folding keep her audience LOL.
When Dena vanished to upgrade her outfits, hilarious videos of her New Jersey Greek chorus -- diverse women of different ages and one African-America Male -- taped and edited by her, were projected on giant screens. Another plus was how warmly and intimately she interacted with ticketholders of any age, gender or sexual persuasion. Guys and geezers hooted as heartily as the spectrum of gals and women did.
Dena shares her life and observations unabashedly, certain that you'll share her humanity and enjoy every minute of doing it. I certainly did.
New World Stages
340 W. 50th Street 10019
www.telecharge.com 212-239-6200
Photo Credit: Donna Spagna Photography
Popular in the Community