Nate Hamilton, a three-tour navy veteran living in Sneads Ferry, North Carolina, felt he and Otis, an American Bulldog he found in a shelter, had a lot in common. Otis was underweight from roaming the streets, had a broken tooth, and several scars. Nate had some scars, too, after an IED blast nearly shattered his entire body. He had also been diagnosed with PTSD.
Since the demand usually far exceeds the supply, Nate's application for a service dog was denied. While researching companion pet adoption, he learned about Pets for Patriots, a nonprofit that connects veterans to the most at-risk dogs and cats at shelters, rescues, and animal control facilities nationwide. They help make adoption process easier and more affordable, coordinating discounted adoption fees, "welcome home" packages of food and collars, and continued veterinary discounts for the men and women who have served our country.
"There's a mistaken impression that everyone will qualify for a service animal," said Beth Zimmerman, Founder and Executive Director of Pets for Patriots. "But for most veterans, a companion pet can be just as therapeutic, and even life-saving."
As Nate, 29, walked through the kennels, Otis was the only dog not barking excitedly -- he was just leaning his face against the fence and hoping for some love. Nate took the American Bulldog for a walk in the parking lot, the pup instinctively trotted straight to his car, and it was love.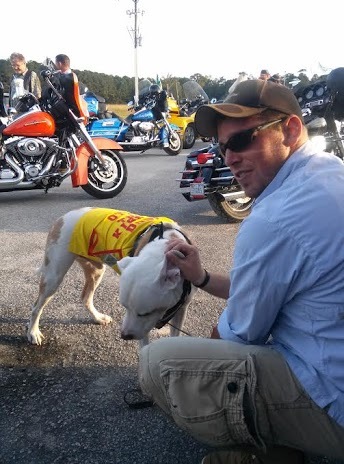 "Just waking up in the morning was rough, but now I have something to wake up to, and something to look forward to when I come home," said Nate.
Like any other dog, Otis hoards up all his toys and is always on the troll for a treat; but what's extraordinary about this companion canine is that he also keeps an eye on his dad throughout the night, waking him up from nightmares and seizures. He also helps him when he struggles to walk uphill or stand up from his seat, and even helps him take down the dishes.
"He lets me lean on him," Nate said.
Plus, walking Otis keeps Nate, once a self-described hermit, more active--he says he's no longer sitting around thinking about pain, and is grateful for the opportunity Otis gives him to socialize with others.
"They let me take him into the restaurants here in town, even though he's not technically a service dog," he said. "It helps me get used to crowds again."
Hundreds of Veterans have told Zimmerman that their new pet has given them a reason to live, and has helped them to reestablish a healthy sense of routine and structure in their lives.

"Whether it's PTSD, depression, or another psychological condition, there's a tendency for veterans to isolate themselves and focus on their symptoms. A pet has an amazing ability to help bring someone out of that cycle of constant self-reflection," said Zimmerman.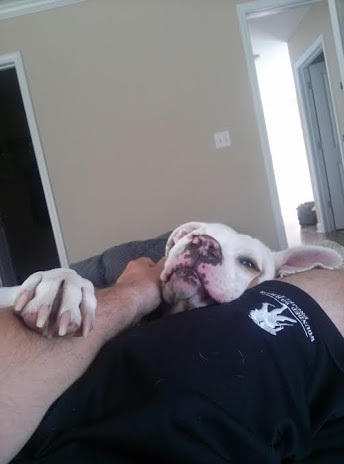 Together, Otis and Nate often work together to raise money for local animal shelters--Otis gives out kisses for a dollar a piece, which resulted in $450 raised for a local pet charity.
So what's up next? Nate is now hoping to become certified in training therapy dogs.
"I've had to take a lot of medications, but since Otis, I'm off almost all of them," he said. "Otis has turned out to be the best medicine for me."
Related
Popular in the Community