As if you didn't already know the timelessness of denim, first popularized by Bavarian designer Levi Strauss, who made blue jeans the outfit du jour for gold rush miners of the 1890s, there's a new exhibit that explains how 125 years later, you'll find denim on runways around the world. The Museum at FIT, accredited by the American Alliance of Museums as the only museum in New York City dedicated solely to the art of fashion opens an exhibit to celebrate denim, and its relationship to couture. Dec. 1, Denim: Fashion's Frontieropens at The Museum at FIT with curator Emma McClendon's book by the same title expected in April of 2016 . The exhibit explores the curious relationship denim has with high fashion, since its inception in the nineteenth century.
By the early twentieth century, cowboys and ranchers from Reno to Arizona were wearing dungarees. Denim was the fabric of nonconformity, and because it was cheap and easy to clean, blue jeans became especially popular with kids (and the mothers washing their clothing) from the 1930s to the 1950s.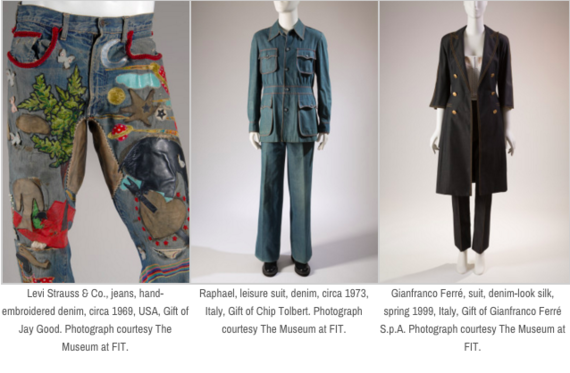 Back on the homestead, amateur lady ranchers wore the first Lady Levi's. The fashion world took notice, and in 1935, Vogue ran a story on dude ranch chic. Four years later, in the 1939 film "The Women" based on Clare Booth Luce's play by the same name, the cast wore denim to signal the rebellious, sexual and powerful nature of the characters.
The first American designer to include denim in her collection was Claire McCardell, who Betty Friedan dubbed, "the girl who defied Dior." McCardell, who in 1943 took advantage of the wartime fabric restrictions, saw the value in denim. Not only was the fabric domestically sourced, it was practical for women in the workplace--as it took less time and effort to wash, keep clean and didn't require time spent at an ironing board. An unknown Lauren Bacall modeled McCardell's denim popover dress in Harper's Bazaar.
Find these historical garments, including 70 objects from the museum's permanent collection, many of which have never been on view at the show, which explain how denim has become a luxury item, as well as a fabric for contemporary designers to experiment with as a vehicle for postmodern pastiche and deconstruction.
People want to wear denim, not just for its ease, but because it's always evolving. Jeans remain timelessly fresh as well as a necessary indulgence. That's the takeaway from this gorgeous show that has been thoughtfully curated.
A number of garments in the exhibition have been newly acquired by The Museum at FIT from the most recent collections. Among these looks are women's wear from Dries Van Noten, Chloë, and Sacaï, as well as menswear pieces from Ralph Lauren and Rag & Bone.
Denim: Fashion's Frontier is organized by Emma McClendon, assistant curator of costume. It is on view from December 1, 2015 to May 7, 2016.
Museum hours: Tuesday-Friday, noon-8 pm; Saturday, 10 am-5 pm. Closed Sunday, Monday, and legal holidays. Seventh Avenue at 27 Street