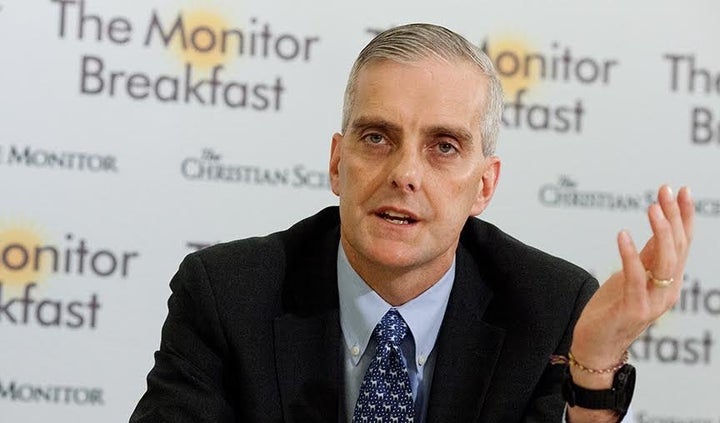 WASHINGTON -- White House Chief of Staff Denis McDonough on Wednesday sang the praises of an unlikely politician: Republican Gov. Nikki Haley of South Carolina, who delivered the GOP's response to President Barack Obama's State of the Union address on Tuesday night.
"I have a lot of admiration for the governor," McDonough said during a Christian Science Monitor breakfast with reporters.
"Some of the things she's done over the course of the last year are remarkable," he said. "I thought that the reaction and her leadership role in the fallout from the Charleston shootings, and her very brave and admirable role on the [removal of the Confederate] flag, were powerful."
Haley, whose name has been floated as a potential vice presidential candidate for the Republican nominee, isn't exactly an Obama administration ally. She's refused to expand Medicaid in her state -- that's "the top of the list" in terms of policy disagreements, said McDonough -- and in her Tuesday speech, she blamed Obama for dividing the nation.
But she also outraged some conservatives by criticizing her party's presidential front-runner, Donald Trump, as one of "the angriest voices" out there fueling anti-immigrant rhetoric. Add to that Obama's top staffer now offering kind words about Haley, and you can imagine that some conservatives' heads may be about to explode.
McDonough said he didn't actually see Haley's speech, but read it later and "wasn't surprised" by her calls for more inclusion.
"By no means am I trying to endorse everything that she's doing," he said. "But I do think that a lot of this, including parts of the speech last night, were admirable."
PHOTO GALLERY
Obama's State Of The Union Through The Years
Calling all HuffPost superfans!
Sign up for membership to become a founding member and help shape HuffPost's next chapter