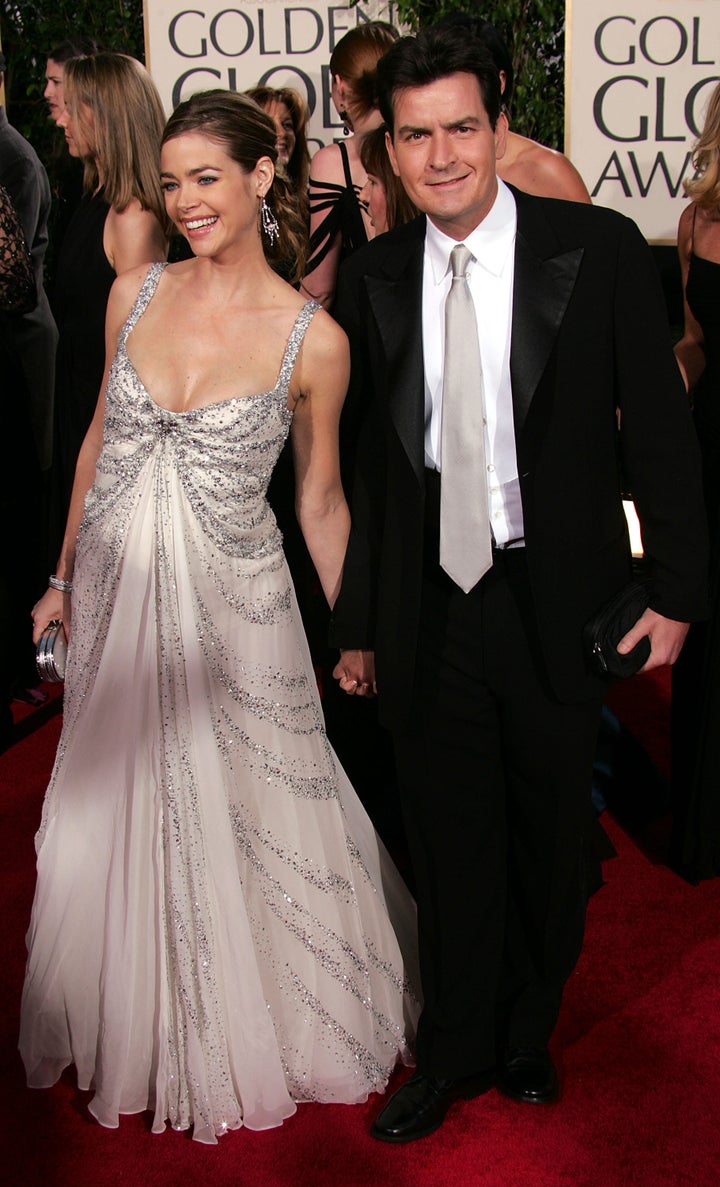 Charlie Sheen was hospitalized Tuesday after he was found naked and drunk in his NYC hotel room. He had been partying with a prostitute, authorities told the New York Post, and the still-unidentified woman told police he was yelling and throwing furniture.
Life & Style reports that police found a prostitute screaming from inside the closet of the hotel room while Sheen was passed out on the bed.
"She was fearing for her life and was naked," a source told the magazine.
Just hours before, the woman reportedly met Sheen's ex-wife Denise Richards over dinner Monday night, Life & Style also reports. Richards had been staying in a separate room of Sheen's suite with the couple's two young girls, Lola and Sam, according to the New York Post.
"Good morning!! Getting ready .. Heading to do Howard Stern this am!! Hmm what could he possibly ask this time?!?!" Richards tweeted Tuesday morning.
According to People, Richards, who is promoting her new Spike TV Series 'Blue Mountain State,' didn't tell Stern much about the incident other than, "It's been a very eventful trip."
Life & Style's press release follows:
Life & Style has learned that just hours before Charlie Sheen was found naked and incoherent at The Plaza Hotel in NYC, the Two and a Half Men star was dining with a group of friends and some escorts, including the escort that he was later found with.

"They were all dining at Daniel, a posh restaurant on the upper east side near The Plaza," says an eyewitness. "Charlie was rowdy from the beginning like he had been drinking prior."

The group attempted to have a civilized dinner, but things quickly took a turn for the worse. "Charlie was stumbling and loud and being very frisky and touchy-feely," the eyewitness tells Life & Style. "Charlie and his date excused themselves to the bathroom together, for a long time. You don't have to be an investigator to know what was going on in that bathroom."

Ex-wife Denise Richards, who is in town with her and Charlie's kids, stopped by to join the dinner, but "looked like she had enough" of Charlie's antics and excused herself from the table.

As Life & Style previously reported, the police were later called to Charlie's trashed suite at the Plaza Hotel around 2 a.m., where they found a passed out and half-naked Charlie and his escort screaming from inside the closet. "Charlie broke the massively expensive chandelier in the room," a source tells Life & Style about some of his total $7,000-worth of hotel damages. "Glass was everywhere and he tried to sweep it under the bed. There was blood on the carpet, presumably from scrapes and cuts as he was trying to clean it up."

Aspen officials are now considering legal action against Charlie, who is currently on probation stemming from his domestic violence case in December, sources close to the investigation tell Life & Style.
Popular in the Community