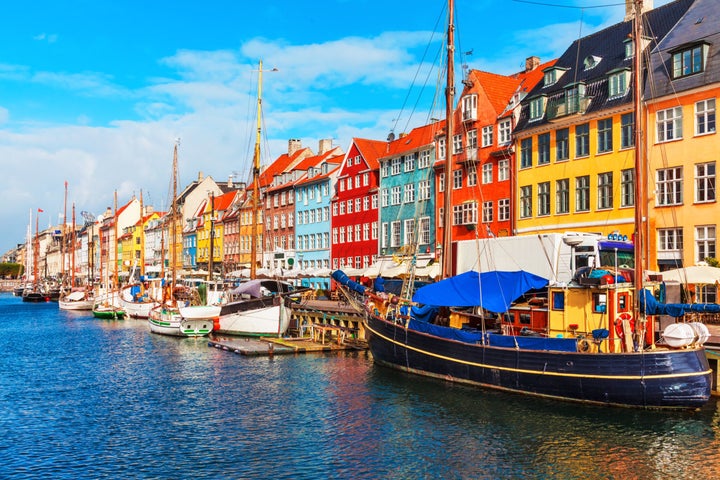 But at least when it comes to the ownership of its biggest companies, Denmark has an unusual way of doing business.
Many of the country's corporate titans are controlled by nonprofit foundations and charities, which either own majority stakes or dominate shareholder voting through more powerful classes of shares. Their backing makes it much easier for management to stave off pressure from other shareholders to pursue quick financial gains -- at the expense, perhaps, of employees' well-being, the environment or even the company's own long-term competitiveness.
"The fact is that many Danish companies have an ownership structure that allows us not to be forced by the short-termism of the markets, per se, and to think long term," Novozymes CEO Peder Holk Nielsen said in an interview at The Huffington Post's Manhattan headquarters on Tuesday. "I think that is a great grooming ground for sustainability."
Novozymes -- a Copenhagen-based biotech firm that last month released a new probiotic microbe product that may help poultry farmers wean their birds off potentially dangerous antibiotic regimens -- is controlled by a charitable foundation.
Similarly, about 51 percent of brewing giant Carlsberg is owned by an eponymous foundation that uses its profits to fund scientific research. Maersk, the Danish shipping goliath, is controlled by the A.P. Møller and Chastine Mc-Kinney Moller Foundation, which holds more than 50 percent of voting rights at the company. The Lundbeck Foundation, which owns 70 percent of its namesake pharmaceutical company, shells out about $74.4 million in grants each year to fund medical research and education programs.
Businesses around the world rely on profit as a chief metric of success, and stock markets -- where companies go to sell shares and raise money -- encourage this focus. But recently, several noted business leaders have called for an end to the obsession with quarterly earnings, which can divert companies from investing in things that take more than a few months to pay off, such as renewable energy.
"Guys like myself are shielded from the sheer short-term focus of the stock market," Nielsen said. "Yet we have 75 percent of our ownership in free-float, so we're actually exposed to the stock market."
The charitable foundation controls 69 percent of Novozymes' shareholder votes, but actually owns only 25 percent of its stock. That hybrid model insulates the company from pressure to deliver quick and easy profits, while keeping it grounded in the reality of the market. It also protects the company from proxy fights or hostile takeovers by a competitor.
"You're not going to be knocked over by a bad quarter," Nielsen said. "But you also take a bad quarter seriously because the stock market will tell you it's not right."
Looking beyond quarterly earnings doesn't seem to hurt shareholders. Foundation-owned companies on the Copenhagen Stock Exchange were at least as good at delivering risk-adjusted stock returns as their competitors with traditional ownership structures, according to a study published in the European Journal of Law and Economics in 2004.
To be sure, the foundation-ownership model is not a particularly democratic one. It places control over a public company in the hands of a small board of directors at the nonprofit, rather than with the larger group of investors who own stock in the firm.
In many cases, foundation ownership was the wish of company founders who wanted to preserve the businesses they built for posterity, according to Steen Thomsen, a professor at Copenhagen Business School's Center for Corporate Governance who co-authored the 2004 study.
"The typical story is of a founder who regards the company as his contribution to world peace, has not done anything else in his life and can't bear to part with it or see it torn apart by siblings who can't agree," Thomsen told the Financial Times in 2011.
Moreover, a business model that suits a nation smaller than Maryland, with just 5.6 million people, might not work as well in a much larger country.
"It has a weird effect on politics in such a small country -- the CEOs' families do have an outsized influence on politics," said Guan Yang, an expert in Danish finance who grew up in Copenhagen and teaches at New York University. "A lot more than, if you take an American example like the Koch brothers, they're pretty small compared to the size of the U.S. economy."
Foundation ownership of businesses is rare in the United States. Before 1969, it was more common, according to a follow-up study led by Thomsen in 2013. But the Tax Reform Act of 1969 virtually eliminated such ownership by restricting how much of a for-profit business a private foundation can own, according to the Foundation Center. The legal change came of longstanding fears over the power of private foundations set up by industrialists like John D. Rockefeller or Andrew Carnegie to preserve dynastic wealth.
But as the gap between those born rich and born poor in the U.S. continues to widen, reining in the wealthy may be a moot point.