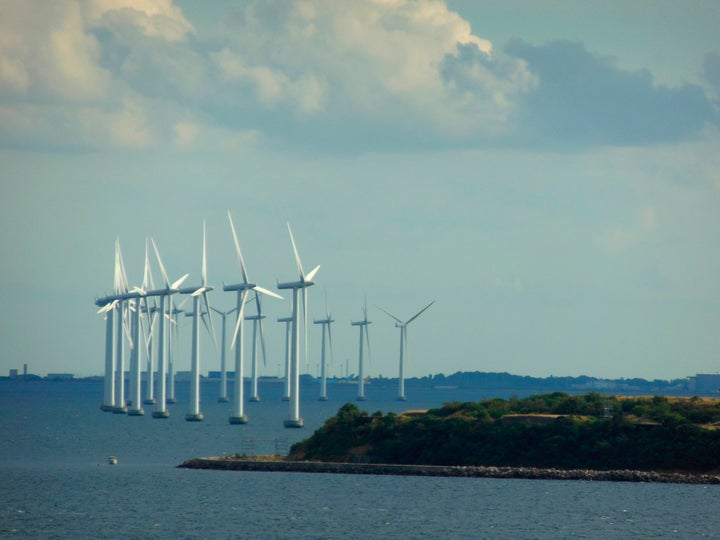 For the second year in a row, Denmark is the most wind-powered country in world history, Danish officials announced this weekend.
The Scandinavian country produced a whopping 42 percent of its electricity from wind power in 2015, the highest proportion ever achieved by a country, according to Denmark's utility company, Energinet.
And for the first time ever last year, the country was able to turn off its large central power stations for an entire day and provide all electricity from wind turbines and other renewable energy sources.
This is the second year in a row that Denmark has set the record for wind energy; in 2014 it generated 39 percent of its electricity from the turbines.
The increase is partly due to an exceptionally windy year, the company conceded, but the jump is consistent with year-over-year increases since 2005, when Denmark was only producing about 19 percent of its energy from wind power.
The new record keeps Denmark on track to meet its goal of 50 percent wind energy by 2020 and 100 percent renewable energy sources by 2050.
"Hopefully, Denmark can serve as an example to other countries that it is possible to have both ambitious green policies with a high proportion of wind energy and other renewables in the energy supply, and still have a high security of supply and competitive prices on electricity," said Lars Christian Lilleholt, the country's minister for energy, utilities and climate, according to The Guardian.
By comparison, the U.S. generated just over 4 percent of its electricity from wind power in 2014, the American Wind Energy Association reported last year. The group hasn't yet announced data from 2015.
President Barack Obama gave the wind industry a nod in his State of Union speech last week, extolling the energy source's increasing affordability.
What might the future of energy look like? Check out the "Talk Nerdy To Me" episode below to find out.
Support HuffPost
The Stakes Have Never Been Higher
Related
Popular in the Community