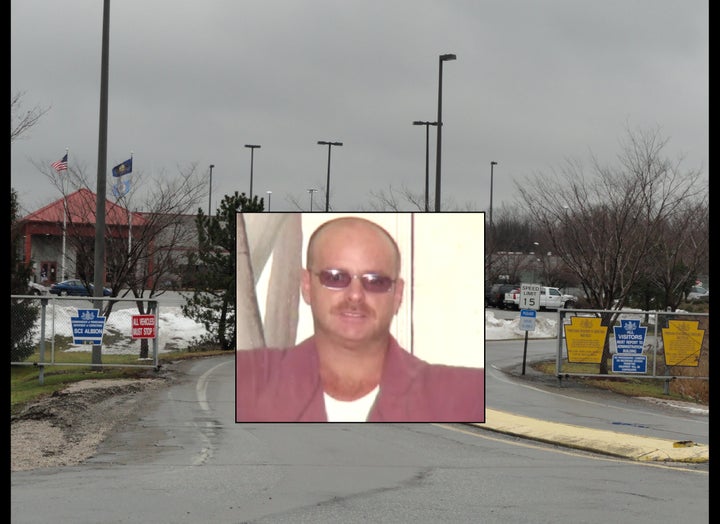 ALBION, Pa. -- A former correctional officer from the Pennsylvania State Correctional Institution in Albion said he is not surprised by the recent death of Dennis Austin, an inmate who suffered from grossly infected bedsores.
"It's happened before. This is a pattern that's been ongoing," Kevin Barwell, the retired correctional officer from SCI Albion, said in an interview with The Huffington Post. "[Austin's death] is a direct result of negligence. They're not doing their job."
Austin, 48, had been diagnosed in July 2010 with lung and bone cancer. The inmate died on New Year's Day. According to the Erie County Coroner, Lyle Cook, Austin died as a result of stage-four metastatic lung cancer.
Committed to the prison in 1991 for rape and kidnapping, Austin was serving a 28- to 57-year sentence.
Barwell, 48, said he had worked at SCI Albion, a medium-security correctional facility located 30 miles southwest of Erie, for about 14 years. He retired in 2008.
"I'm not a disgruntled employee," Barwell said. "I did not get terminated or anything. I took an early retirement for personal reasons. I left the right way. I have commendables on my employee evaluations. My only sore spot is how they treat people."
Barwell did not know Dennis Austin, but said he is familiar with the infirmary at SCI Albion where Austin received treatment.
"We had one inmate who was in the infirmary who was paralyzed from the waist down," he said. "He had bedsores right down to the bone on his buttocks. I saw them and I could actually smell the flesh. He needed [rolling] several times a day. [The inmate] eventually started talking to an attorney and threatened to file a lawsuit. After that they started to [turn him regularly]."
The retired correctional officer said it was not unusual to walk through the infirmary and smell "feces or rotting flesh." He said the medical staff can get "extremely busy" and that it was not uncommon for things to "fall between the cracks."
"You're not going to get the same level of care in that infirmary that you'll get in the hospital," Barwell said.
Susan Bensinger, deputy press secretary for the state Department of Corrections, would not comment on Austin's death -- citing privacy laws and the recent request for an investigation -- but did defend the prison's medical facilities.
"We have an extensive medical [staff] from LPNs up to and including medical doctors," Bensinger told The Huffington Post. "All of our institutions are accredited by the American Correction Association [and] the Department of Health. There are extensive checks and balances in place to ensure we are providing the [same] care [...] they would receive in the community."
The former guard has a different opinion and said the attitude of some individuals while he was employed there was that they did not care if inmates like Austin received proper medical treatment.
"The general consensus, and I can hear this ringing in my head, is 'F--k it, he's a child molester or a sex offender, so he can lay there and die for all I care,'" Barwell said. "Sure, stuff like that is said. I don't know if it was said in Mr. Austin's case, but it was said in the past."
On Wednesday, former federal prosecutor Jeffrey Del Fuoco asked Erie County District Attorney Jack Daneri to conduct a formal investigation. Daneri has not returned multiple calls for comment this week from The Huffington Post.
Del Fuoco had an opportunity to speak with Barwell Thursday afternoon and sent a synopsis to Daneri.
"According to the witness, care managers at the infirmary (who have recently been seen on television picketing the facility in light of planned privatization) appear to harbor the attitude, 'he's f--kin' dying anyway, he's a dirtbag, let 'em lay there.' The witness suggests that this managerial attitude has now permeated the entire staff's viewpoint," Del Fuoco wrote.
"[Barwell] relates that had a proper medico-legal investigation been done, this would have 'opened up a whole Pandora's box all the way up to the Superintendent,'" the synopsis continued.
Del Fuoco said he has yet to receive a response from Daneri. In regard to Barwell, the veteran attorney said he commends his "courage and integrity" for coming forward.
"It's important for, in essence, whistleblowers like this guy to come forward in cases like this where many times what goes on inside an organization can only be verified by somebody with personal knowledge," Del Fuoco said.
WARNING: GRAPHIC PHOTOS OF DENNIS AUSTIN (Article Continues Below)
PHOTO GALLERY
Dennis Austin
During his interview with The Huffington Post, Barwell said he suspects the lack of empathy he allegedly perceived while working at SCI Albion is connected to an incident that occurred about five years ago when convicted murderer Malcolm Kysor, then 53, escaped from the facility.
On Nov. 25, 2007, Kysor hid inside a garbage can, which was placed on a pickup truck carrying containers of "pig slop." The incident occurred in full view of surveillance cameras but went unnoticed. Guards also failed to conduct a thorough inspection of the truck and did not check the load with a heartbeat detector or poke the containers with a metal rod, as regulations required. The truck was driven out of the prison and Kysor remained on the lam until he was captured in California on April 5, 2008.
"After the 2007 prison escape, things started deteriorating rapidly there as far as the morale," Barwell told HuffPost. "The escape was a direct result of inadequate staffing. The [employees] didn't care anymore and I think Mr. Austin is a [casualty] of them not caring because of the overall morale of the institution."
Barwell added: "We've been averaging about one successful employee suicide every three years. That's not being addressed. A guy I was carpooling with put a gun in his mouth, pulled the trigger and lived for two days. We just had one a year ago that did the same thing. They're killing themselves off faster than the inmates are attempting suicide but nobody wants to talk about it."
Asked about the allegation regarding the suicide rate at the prison, Bensinger, the press secretary, said, "I can't confirm that. I would be surprised."
While the guard suicides at SCI Albion remain in question, some of the most recent data available -- collected by the International Academy of Suicide Research and reported by The Denver Post in 2007 -- indicates prison guards' suicide rates are about 39 percent higher than similar averages for other jobs.
In regard to the medical care and treatment of inmates at SCI Albion, Barwell said guards who might like to speak up won't because they have too much to lose.
"The employees are not going to speak up because they're making $50,000 a year and some of their pensions are worth over a million dollars, so they suck it up," he said.
The current guards should, however, be worried about inmates viewing the photos of Austin's bedsores, the retired correctional officer warned.
"The pictures can make for a very dangerous environment because if the inmates see these, they say 'f--k it,'" Barwell said. "They don't care about [the guards]."
Barwell also warned that if conditions he allegedly witnessed while working as a guard do not improve, things will only get worse.
"[The inmates at SCI Albion] are a ticking time bomb," he said. "This is another Camp Hill that's going to happen."
In October 1989, inmates rioted at SCI Camp Hill, a correctional institution in Cumberland County, Pa. More than 200 correctional staff and inmates were injured in the two-day riots and 14 of the institution's 31 buildings were destroyed. In the aftermath, overcrowding -- the prison was nearly 45 percent over capacity -- was ruled a significant factor. Some guards blamed administrators for ignoring reports about a possible rebellion.
"This is what people don't understand about prison," Barwell said. "You can have all the keys in the world. You can have all the locks in the world, gates up to the sky, all the guns, the electronics and the cameras, but that is not what runs a prison. What runs a prison is communication and the ability to talk to people and listen. When you shut that off, you put the place in a bubble and it's going to blow up."
Bensinger declined to discuss any of the allegations made by Barwell.
"I'm not going to comment on what a former employee may have or may not have said unless I hear it for myself," she said.
Asked why he decided to come forward, Barwell said he saw a need for justice in Austin's case.
"If these people can have some sort of justification for the way that inmate -- that person -- was being treated, that's all I am looking for."
But, the former correctional officer said he expects little to come of anything he has said.
"This will be swept under the carpet," Barwell said. "It always is."
Calling all HuffPost superfans!
Sign up for membership to become a founding member and help shape HuffPost's next chapter
BEFORE YOU GO