Dennis Avner, better known by his Native American name "Stalking Cat," died on Nov. 5. He was 54.
Avner, who underwent extensive body modification to transform himself into a big cat, is believed to have committed suicide in his hometown of Tonopah, Nev., the New York Daily News reports. The cause of his death has yet to be confirmed, however.
The Nye County Sheriff's Office confirmed Avner's death to The Huffington Post but was not able to provide additional details.
According to Jodie Michalak of About.com, Avner, who is of Native American descent, had "felt his spirit…called to the wild and [had] made it his goal to modify his body in honor of the tiger," his totem animal.
"I'm Huron and Lakota," he told the Seattle Times in 2005. "I'm just taking a very old tradition, that to my knowledge is not practiced anymore."
Over the course of many years, Avner, who was a U.S. Navy veteran-turned-programmer, paid an "uncalculated amount" of money to achieve his metamorphosis, undergoing several surgeries and cosmetic procedures, as well as getting a great number of tattoos and piercings, the Daily Mail reported in 2008.
A few years ago, Avner gained worldwide fame after he clinched the title of the "most permanent transformations to look like an animal" in the Guinness Book of World Records. Since then, the "Cat Man" had been featured on "Ripley's Believe It or Not!," VH1's "Totally Obsessed," Animal Planet's "Weird, True & Freaky" and several other TV shows.
Dennis identified strongly with his feline totem animals and in what he told me was a Huron tradition of actually adopting the physical form of one's totem, he transformed himself not just into a tiger, but a female tiger at that, blurring and exploring the gender line as much as the species line.

Much of his work had been done by body modification pioneer Steve Haworth, who rebuilt Dennis's ears, lip, nose, and face to resemble a tiger, including a multitude of transdermals that held artificial whiskers. In addition to being almost completely covered in tattoos, he'd also sculpted his face and body with extensive silicone work, had custom teeth built to emulate his inner nature, and regularly wore contact lenses and an artificial robotic tail.
Avner's extensive body work won him many admirers, including tattoo fans and body modification enthusiasts, but undoubtedly, it also provoked criticism and concern from physicians and baffled regular folk alike.
Glenn McGee, director of the Center for Bioethics at Albany Medical College in New York, told the Seattle Times that though many people have traditionally "tried to emulate animals as a model for virility," Avner may have taken things too far.
"This is a patient who's being harmed by medicine in the interest of his tradition," he said. The newspaper adds that other doctors had expressed concern that Avner may have suffered from a form of body dysmorphic disorder.
"Dennis's boundary-breaking life was never an easy one, and as he was fond of saying, he 'found fame, but never fortune.' A wonderful and complex person, he was at times as troubled as he was remarkable," BME's Larratt wrote.
Since Avner's death, many have stepped forward to mourn his passing and celebrate his life.
"When it comes to weird characters and totally outrageous body modifications, none compared to Dennis," Tim O'Brien of Ripley Entertainment Inc., the company behind "Ripley's Believe it or Not!," told The Huffington Post.
"Such sad news. I never had the honor of meeting him, but I know he inspired a lot of people to follow their heart when it comes to body mods. Rest in peace Dennis. Thinking of his friends and family," a BME reader said on Monday.
"Dennis, you and I never met, but I have followed your story. I just wanted to say that I've always been impressed with your dedication and desire to honor your heritage and walk that path," Jennifer Sams wrote on Avner's Gone Too Soon memorial page.
Before You Go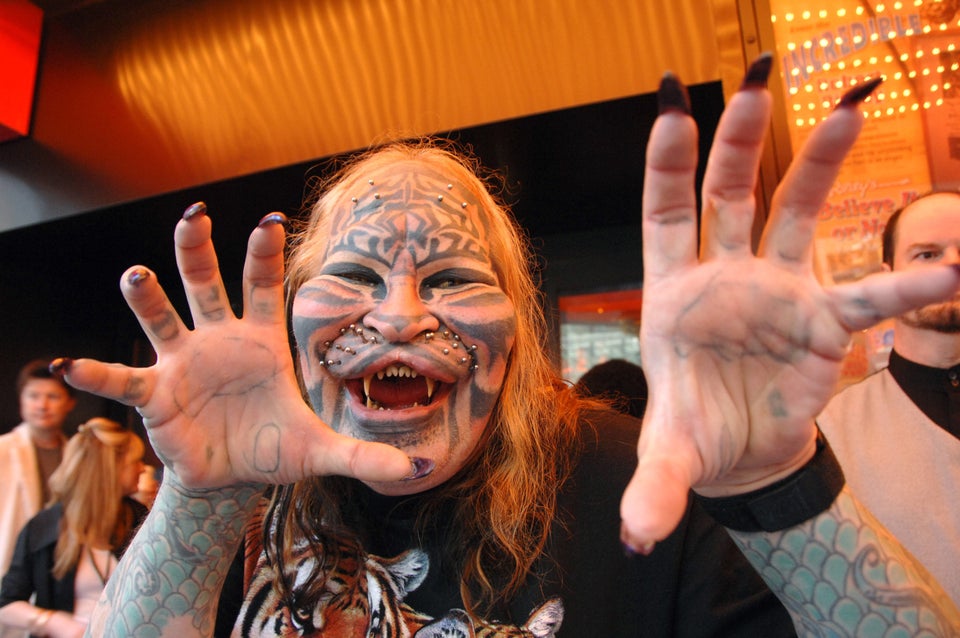 Stalking Cat
Popular in the Community