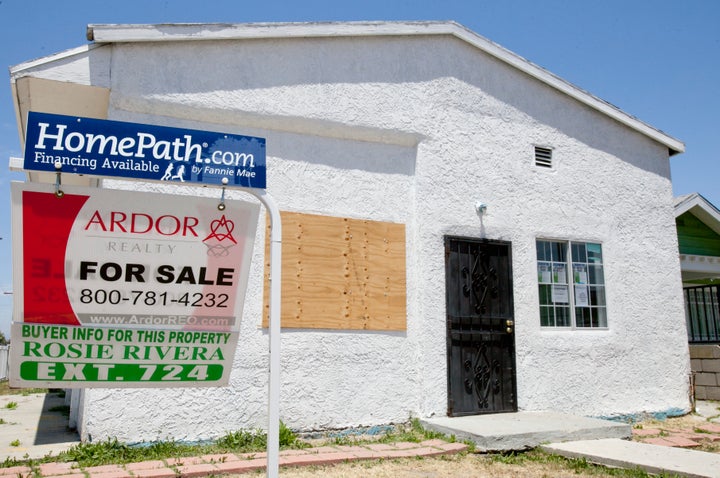 Georgia Judge Dennis Blackmon is fed up with bailed-out banks refusing to help strapped homeowners.
"Sometimes, only the courts of law stand to protect the taxpayer. Somewhere, someone has to stand up," Blackmon wrote in a five-page Nov. 2 order in Carroll County Superior Court. "Well, sometimes is now, and the place is the Great State of Georgia. The defendant's motion to dismiss is hereby denied."
Blackmon's order shot down U.S. Bank's request to throw out a complaint from Georgia homeowner Otis Wayne Phillips, who had tried to get a mortgage modification from the bank. Phillips could not be reached for this story.
The order lays the case out like this: Phillips is in danger of foreclosure. U.S. Bank is among the "poorly run organizations" that recently received massive bailouts from the federal government and agreed to participate in the Obama administration's Home Affordable Modification Program. When Phillips applied for a modification, the bank denied his request "without numbers, figures, or explanation, reasoning, comparison to guidelines, or anything."
HAMP guidelines require banks to consider homeowners for modifications if they are at risk of falling behind on their payments because of a financial hardship and if their monthly mortgage expenses take up more than 31 percent of their income.
"This court cannot imagine why U.S. Bank will not make known to Mr. Phillips, a taxpayer, how his numbers put him outside the federal guidelines to receive a loan modification," Blackmon continued. "Taking $20 billion of taxpayer money was no problem for U.S. Bank. A cynical judge might believe that this entire motion to dismiss is a desperate attempt to avoid a discovery period, where U.S. Bank would have to tell Mr. Phillips how his financial situation did not qualify him for a modification."
If Phillips didn't qualify, Blackmon wrote -- with apologies to folksinger Arlo Guthrie -- why didn't the bank say so with "mathematic equations, pie charts, and bar graphs, all on 8 by 10 glossy photo paper, with circles and arrows and paragraphs on the back explaining each winning number"?
"Maybe U.S. Bank no longer has any of the $20 billion left, and so their lack of written explanation might be attributed to some kind of ink reduction program to save money," Blackmon continued. "Clearly, U.S. Bank cannot take the money, contract with our government to provide a service to the taxpayer, violate that agreement, and then say no one on earth can sue them for it. That is not the law in Georgia."
Consumer attorneys started circulating the order via email on Monday.
"It just demonstrates the frustration of the courts to the arguments being advanced by mortgage servicers over and over and over again," North Carolina attorney Max Gardner told HuffPost. "I think you could see the frustration on all four corners of that order."
Since its launch in 2009, the Home Affordable Modification program has been plagued by complaints of lost documents and miscommunication from banks' mortgage servicing divisions. Fewer homeowners have received permanent modifications than have been booted from the program. Banks can use an opaque "Net Present Value" test to deny a homeowner if a modification would be less profitable than a foreclosure.
Homeowners have brought a wave of still-ongoing lawsuits against banks for mortgage servicing abuses, and a coalition of state attorneys general is currently negotiating with the biggest banks for a settlement that would reform the mortgage servicing industry and provide some relief to homeowners. That settlement, if it ever happens, would not preclude borrowers from filing their own claims, though Gardner suggested banks would use it as leverage in court.
Blackmon's order says Georgia law allows claims for breach of a duty of good faith and fair dealing, and that there are two contracts at issue: the bank's agreement to participate in HAMP and its loan with Phillips. The case is on its way to a jury trial. "While difficult to define, jurors know good faith and fair dealing when they see it, and jurors can spot the absence of same."
Spokesman Tom Joyce said U.S. Bank would immediately pursue an appeal.
"The court's order contains a number of factual and legal errors," Joyce said. "On the broader topic, foreclosure is always the last option for borrowers and the bank. That's why we've worked with thousands of borrowers across the country on modifying their mortgages to help them manage their payments and stay in their homes."
This story has been updated to include comment from U.S. Bank.
Popular in the Community