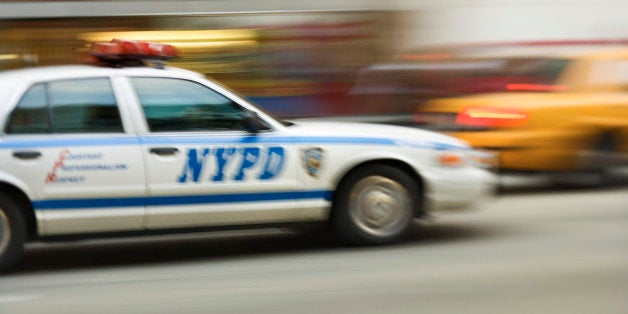 BROOKLYN — A seven-year NYPD veteran died Wednesday morning from injuries he suffered from an arson fire set by a "bored" teen in the hallway of a Coney Island high-rise, police said.
Officer Dennis Guerra, 38, of Far Rockaway, died at 6:50 a.m. in Montefiore Hospital where he was being treated for severe smoke inhalation he suffered in the Sunday afternoon blaze inside 2007 Surf Ave.
"Our Rockaway neighbor, @NYPDnews Officer Dennis Guerra gave his life in service of others!," Assemblyman Phil Goldfeder wrote in a Tweet. "Please keep family in your thoughts and prayers!"
Guerra and another officer, Rosa Rodriguez, 36, raced up to the 13th floor of the building to investigate a mattress but were overcome by thick smoke, an NYPD spokesman said.
Rodriguez was still in critical condition at Cornell hospital's burn unit, police said Tuesday.
"Our hearts go out to the Guerra family and the Rodriguez family," Mayor Bill de Blasio said at a Tuesday press conference.
"We know how tough these last few days have been for these families and they always have the support of Commissioner [Bill] Bratton and I and of all New Yorkers."
Marcell Dockery, 16, told police he was "bored" so he set fire to a mattress in his apartment building about 12:30 p.m. Sunday, according to the NYPD and New York Post.
Guerra and Rodriguez were patrolling the area and heard the 911 calls for a fire, so they hopped in an elevator and made their way up only to by overcome back smoke, police said.
They were both unconscious when firefighters arrived, the NYPD said.
Dockery was charged with assault, arson and reckless endangerment, according to court records.
He was due back in court on April 11.
"The tragedy here is that a 16-year-old young man would not have common sense enough to understand the potential implications of lighting a mattress, as has been alleged, on fire in his own building," Bratton said during the Tuesday press conference.
"How can any of us make any sense out of that?"
With reporting by Ben Fractenberg
Popular in the Community