WASHINGTON -- At least one member of Congress was aware that former House Speaker Dennis Hastert (R-Ill.) allegedly sexually molested a male former student prior to his time in Congress.

Relatively early on during Hastert's speakership, Rep. Mel Watt (D-N.C.) was approached with news about the alleged abuse, according to a source with knowledge of the conversation that took place with Watt. The source spoke on the condition of anonymity due to the sensitive nature of the matter.

According to the source, the person who approached Watt was an intermediary for the family of the abuse victim and knew the North Carolina congressman informally. The source did not know what Watt, who now directs the Federal Housing Finance Agency, did with the information.
After The Huffington Post first reported the claims on Tuesday, Watt sent a statement saying that he had, in fact, heard about allegations against Hastert during the early days of his speakership. But he said the information did not appear either reliable or serious enough to prompt action.
"Over 15 years ago I heard an unseemly rumor from someone who, contrary to what has been reported, was not an intermediary or advocate for the alleged victim's family," read the statement. "It would not be the first nor last time that I, as a Member of Congress, would hear rumors or innuendoes about colleagues. I had no direct knowledge of any abuse by former Speaker Hastert and, therefore, took no action."
HuffPost asked Watt's office to clarify who the person who relayed the information was. An official in the office did not immediately respond to that request for clarification.
It seems undisputed, however, that Watt took no action upon hearing the details of Hastert's alleged abuse.
Prior to receiving Watt's statement, HuffPost reached out to more than a dozen former and current lawmakers and elected officials to inquire about the source's claim. Former members of Congress who served with Watt said he had never mentioned it to them. Several of Watt's colleagues at the time who are still serving in Congress didn't recall hearing anything. Democratic leadership sources say they never heard anything from Watt and had no inkling of Hastert's past.

These reactions mirror the larger response to the Hastert news, which surfaced after the former speaker was charged with lying to the FBI about the hush money he was withdrawing from banks. From his hometown of Yorkville, Illinois, to the halls of Congress, there has been uniform shock that the wrestling coach turned most powerful Republican in Washington had such a sordid past.

But while the individuals who spoke with HuffPost were quick to say they had no inkling and had heard no rumors, Watt's office was, initially, much cagier.
Given opportunities over several days to clarify what exactly took place more than a decade ago, Watt's office wouldn't talk. At first, they simply declined to make Watt available for discussion. Later, when reached on the phone and told what the specific issue was, Watt's spokeswoman responded that she had anticipated that that was the subject of the inquiry.
Late last week, a separate official was made available to discuss the matter, but only on the condition that the conversation be off the record. HuffPost can't disclose the details of that discussion, but suffice it to say that they weren't enough to preempt the publication of this piece.

On Monday, HuffPost put four specific questions to Watt's office about Hastert, including a simple yes or no: Was the congressman approached with allegations of Hastert sexually molesting someone?
"No comment," responded the spokeswoman, Stefanie Johnson.
It was only after the publication of this piece that Johnson sent over the statement from Watt acknowledging that he had heard the Hastert rumor.
This story has been updated in light of the statement that Watt's office sent to HuffPost on Tuesday afternoon.
Want more updates from Sam? Sign up for his newsletter, Spam Stein.
Before You Go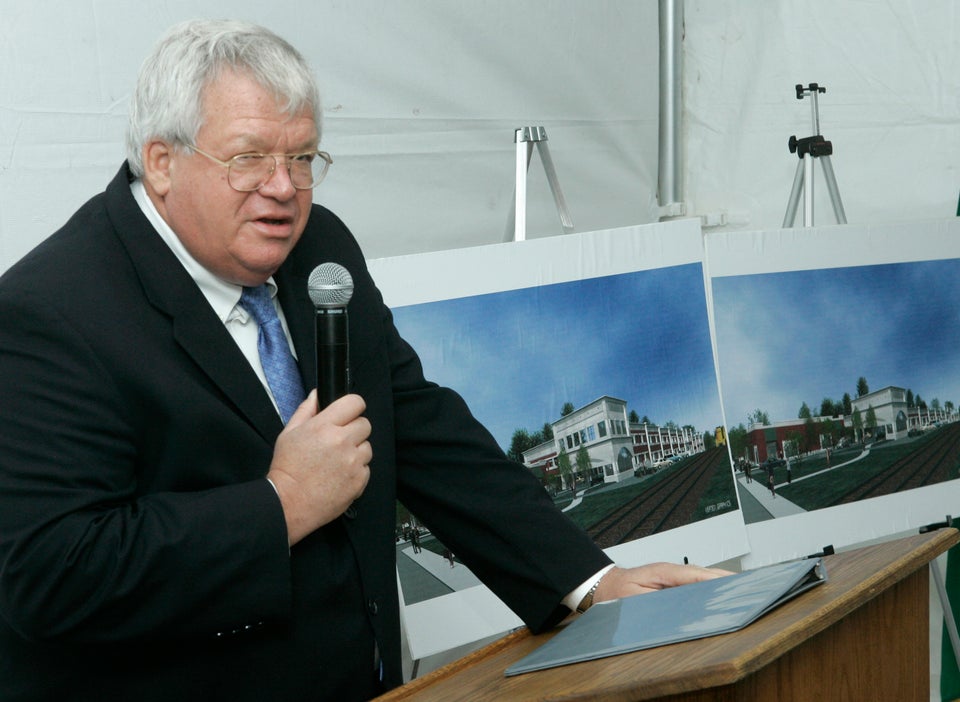 Who Is Dennis Hastert?
Popular in the Community