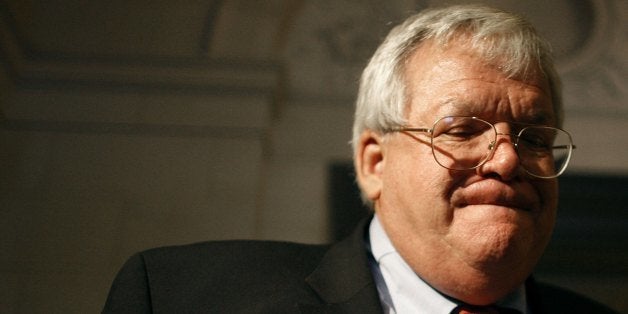 WASHINGTON -- In early October 2006, the floor was crumbling beneath House Speaker Dennis Hastert (R-Ill.).
News broke that he had long known about inappropriate emails Rep. Mark Foley (R-Fla.) sent to a 16-year-old page, and did little to act on it. Republicans, already facing down a blistering midterm election defeat, panicked. The conservative-leaning Washington Times called for Hastert's resignation. Fellow lawmakers cancelled campaign events where he was supposed to appear.
But not everyone rushed to pile on. Rep. Mel Watt, a Democratic congressman from North Carolina and an unlikely source of sympathy, urged voters to reserve judgment on Hastert until more facts about the Foley scandal were known.
"If it is true that he knew, especially, the depth of what was going on as early as some people are now saying, I think he had some responsibilities that he didn't exercise, he didn't take seriously," Watt said, according to an Oct. 4, 2006, article in the Salisbury Post. However, he added, "I never want to prematurely call for someone to step down. I think you get the facts first and let the action follow the facts, and there's time to get the facts."
Watt's measured reaction stood in contrast to his own Republican challenger at the time, who was calling for Hastert's resignation.
But Watt's comments are even odder in light of the fact that while he was cautioning against jumping to conclusions about Hastert, the congressman was aware of sordid rumors about Hastert's own history with minors.
On Tuesday, The Huffington Post reported that Watt was approached early on in Hastert's speakership with accusations that Hastert had molested or abused a child during his time as a teacher and wrestling coach. Watt, who now heads the Federal Housing Finance Agency, acknowledged that he had heard the "unseemly rumor," though his office disputed that it was an intermediary to the abuse victim's family who had come forward with the allegations.
Watt did not act on the rumors at the time because, he said, he "had no direct knowledge of any abuse by former Speaker Hastert." It would take another 15 years for the public to learn of the abuse allegations, which surfaced last week after Hastert was charged with lying to the FBI about the hush money he was withdrawing from banks.
While Watt decided not to say anything about the chatter back in 2000, it's not known whether he had a different impulse when Hastert's handling of the Foley affair became a controversy in 2006. A number of Watt's contemporaries in Congress told HuffPost that they had never heard him say anything about Hastert during his time in Congress. However, a request for comment from Watt's office was not returned.
Want more updates from Sam? Sign up for his newsletter, Spam Stein.
Calling all HuffPost superfans!
Sign up for membership to become a founding member and help shape HuffPost's next chapter
BEFORE YOU GO
PHOTO GALLERY
Who Is Dennis Hastert?