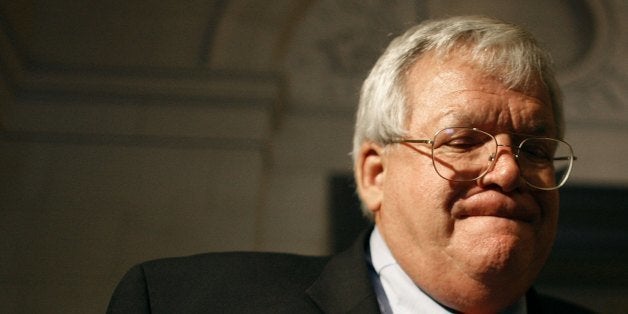 NEW YORK -– Jolene Burdge said Friday on ABC's "Good Morning America" that her late brother, Steve Reinboldt, was sexually abused by Dennis Hastert when the former Republican speaker of the House was an Illinois high school teacher and wrestling coach in the 1970s.
Burdge said she tried getting the word out to the media long before Hastert's indictment last week for lying to the FBI and evading banking laws in an effort to cover up alleged abuse.
ABC News acknowledged that Burdge had approached the network about Hastert in 2006 after former Republican Congressman Mark Foley was caught sending sexually explicit messages to a 16-year-old male page. In Friday's report, ABC noted that it "could not corroborate Jolene's allegation and Hastert denied the claim."
On Friday's GMA, chief investigative correspondent Brian Ross said Burdge had contacted them "off the record" nine years ago, but had only been willing to go public with the allegations more recently.
The Associated Press also looked into the matter in 2006, the news organization disclosed Friday. The AP reported Burdge "ultimately decided against coming forward with a statement at that time."
AP spokesman Paul Colford explained the situation further in a statement to The Huffington Post.
"As a scandal involving former Rep. Mark Foley was unfolding in 2006, a person with no firsthand knowledge pointed The Associated Press to Jolene Burdge," Colford said. "On the phone and by email she repeatedly declined to talk about Dennis Hastert and provided no information that would have allowed AP to pursue a story, despite AP's further efforts to do so at the time."
The Huffington Post reported Tuesday that Rep. Mel Watt (D-N.C.) was informed about claims of abuse early in Hastert's speakership.
In a statement, Watt said he "heard an unseemly rumor" over 15 years ago, but "had no direct knowledge of any abuse by former Speaker Hastert and, therefore, took no action."
CORRECTION: A previous version of this article suggested that Burdge contacted the Associated Press in 2006; rather, it was AP that contacted Burdge.
Related
Popular in the Community