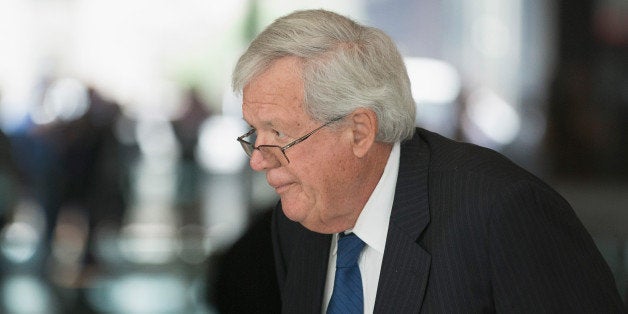 CHICAGO -- In his first public appearance since being indicted on federal charges, former House Speaker Dennis Hastert (R-Ill.) pleaded not guilty on all counts to lying to the FBI and attempting to evade federal banking rules in order to cover up past alleged sexual misconduct.
Hastert was required to submit to a DNA test, surrender his passport and remove all firearms from his property as standard conditions of his release. His attorney, Thomas Green, requested an additional two weeks to remove the firearms Hastert's two sons keep in safes on their father's property, as he said one son is currently traveling in Europe and the other resides in Chicago, where he might not be able to keep the weapons due to strict gun laws.
Dressed in a dark suit and tie, 73-year-old Hastert appeared drawn as he made his way past the throng of reporters and members of the public. He appeared more hunched than usual as he stood before U.S. District Judge Thomas Durkin and replied with a barely audible "yes, sir" the few times he spoke.
Regular beat reporters, several of whom have covered Hastert throughout his years in Illinois politics, were seated in the jury box directly facing him. Hastert did not make eye contact with anyone except his attorney inside the packed court room.
If convicted on all counts, Hastert faces up to 10 years in prison.
News of the May 28 indictment shocked the Illinois town of Yorkville, where Hastert used to be a high school teacher and wrestling coach.
In Hastert's indictment, he is alleged to have promised $3.5 million in hush money to someone identified as "Individual A" in order to conceal past sexual misconduct. Sources familiar with the investigation have said the individual is a former Yorkville High School student who was on the wrestling team when Hastert was the coach.
Though the brief arraignment yielded few surprises, the largest question that surfaced was whether Durkin would remain on the case. Durkin offered to recuse himself and gave prosecutors two days to decide whether they wished for him to remain on the case.
Durkin revealed during the arraignment that when he was a private citizen, he made contributions to the politician's congressional campaign. Additionally, Durkin worked at the Chicago law firm Mayer Brown at the same time as Hastert's son Ethan, who is still an attorney there.
"I have no doubts I can be impartial in this matter," Durkin told attorneys before noting he was "not so naive" to think a reasonable person might see conflicts of interest in the case.
Durkin described his relationship with the younger Hastert as friendly, but said they were not close personal friends and that their families had never met while they both worked at Mayer Brown.
He also noted that his brother, Jim, is the Republican leader in the Illinois House and is from the same party as Hastert.
"The defendant is not a personal friend of my brother," Durkin said.
Durkin further disclosed previous times he had crossed paths with U.S. Attorneys Carrie Hamilton and Steven Block in their respective lines of work.
If either counselors decline to waive Durkin's grounds of disclosure, the case will be randomly reassigned to a new judge.
More than 120 reporters and members of the public lined up hours before Hastert's 2 p.m. arraignment, lining the hall outside Durkin's courtroom.
Chicago resident Joe Visaya, 41, told The Huffington Post he saw news of Hastert's arraignment in the morning paper and decided to take time off work to attend.
"It's my first time ever hearing an arraignment," Visaya said, noting he, too, was shocked when news of Hastert's indictment broke.
"This was a man who sat behind the president at the State of the Union," Visasya said. "Look at him now. Amazing."