CHICAGO -- Former House Speaker Dennis Hastert (R-Ill.) was sentenced Wednesday to 15 months in jail for bank fraud charges after admitting he had sexually abused students while working at a high school decades ago.
U.S. District Judge Thomas Durkin sentenced Hastert to the jail time, followed by two years of supervised release, and issued him a $250,000 fine. The former speaker must also attend sex offender treatment and will not be allowed to contact his alleged victims, Durkin added.
The statute of limitations for the abuse allegations has lapsed, and the banking charges carry a maximum sentence of five years. The recommended sentence was zero to five months, and Hastert's defense argued that the 74-year-old should be given probation due in part to his age and his failing health.
Hastert may be eligible for a compassionate care release if his health deteriorates further, and could be issued a new sentence at that time, Durkin said.
While looking into some large, unreported cash withdrawals Hastert had made, federal investigators learned the former speaker had been accused of abusing or having inappropriate sexual contact with at least five students while working as a high school teacher and wrestling coach some 40 years ago.
They determined that Hastert began structuring cash withdrawals to avoid bank reporting rules in 2010, and that he used the money to pay off an alleged victim known in court filings as "Individual A."
Hastert said in court that he had "mistreated" his students and athletes.
"I'm deeply ashamed to be standing here today," Hastert told the judge, adding that he is getting professional help.
"Mr. Hastert accepts the sentence imposed by the court today," Thomas Green, Hastert's lawyer, said Wednesday afternoon in a statement. "As he made clear in his own words in addressing the court, he takes sole responsibility for this tragic situation and deeply apologizes to all those affected by his actions. He hopes that he now can focus on addressing his health issues and on healing the emotional damage that has been inflicted on his family and friends who have shown unwavering support throughout this trying time."
"I always felt what Coach Hastert had done to me was my darkest secret."
An alleged victim previously known only as Individual D testified in court on Wednesday, and identified himself as 53-year-old Scott Cross.
"I respected and trusted Coach Hastert," Cross said. "Coach Hastert sexually abused me in 1979, my senior year in high school."
Cross described how Hastert offered to massage him after wrestling practice one day under the guise of helping him make weight. He said Hastert asked him to lie down, then removed his shorts and fondled his genitals.
"I always felt what Coach Hastert had done to me was my darkest secret," said Cross, who was 17 when the alleged abuse took place.
Jolene Burdge also testified. She said her brother, Stephen Reinboldt, told her before his death in 1995 that Hastert had abused him as a high school student.
Reinboldt spent the last year of his life "alone, in a one-room apartment waiting to die," Burdge said, describing the loneliness and hardship her brother experienced before he died of AIDS.
"Telling Steve's story without your abuse is like talking about the Titanic without the ship," Burdge said of Hastert. Her brother spent years feeing as if "no one would ever believe you were his abuser," she added.
Hastert sat motionless with his eyes downcast as the witnesses read their statements.
Green apologized to them and said he understood the trauma they had experienced.
However, when addressing the judge, he said he believed Hastert had "compartmentalized" his behavior and that he had mental "deficits" connected to his current medical condition. The former speaker had a stroke last year.
Durkin dismissed this explanation. He had warned previously that false statements Hastert made to investigators a year ago would factor significantly into the sentencing decision. Hastert initially told federal agents that he was being extorted by Individual A, a claim they later determined was untrue.
"Accusing Victim A of extorting you was unconscionable," he said on Wednesday.
"The full weight of the government's resources were thrown at him," the judge added, noting that Individual A's phone had been tapped, tolls were traced and his family's bank records had been analyzed.
Durkin said Hastert used his prestige and reputation to manipulate the FBI and U.S. Attorney's office.
If Hastert had told the truth, the judge said, "I'm not sure we'd be here today. Instead, he lied, and here we are."
"Nothing is more stunning than having 'serial child molester' and 'speaker of the House' in the same sentence," Durkin said.
Individual A filed a breach-of-contract lawsuit against Hastert on Monday, accusing the former speaker of owing him $1.8 million plus interest as part of their agreement to keep the abuse allegations from going public.
Later on Wednesday, U.S. Attorney Zachary Fardon praised the victims for testifying and said his office had done its best to bring on Hastert's reckoning.
"Mr. Hastert's legend and legacy are gone," he said. "In its place is a broken and humiliated man. That's as it should be."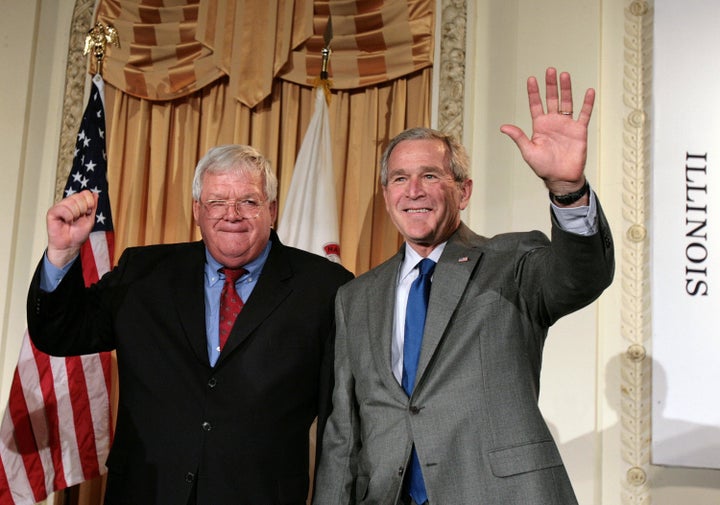 Many members of the public wrote to Durkin in the weeks ahead of the sentencing, expressing outrage that Hastert could have allegedly committed such sexual abuse and go unpunished.
Prosecutors slammed the former speaker in a recent court filing for what they called "stunning hypocrisy."
They highlighted a passage from Hastert's 2004 autobiography in which he wrote, "There's never sufficient reason to try to strip away another person's dignity."
"(T)hat is exactly what defendant did to his victims," prosecutors wrote. "He made them feel alone, ashamed, guilty and devoid of dignity. While defendant achieved great success, reaping all the benefits that went with it, these boys struggled, and all are still struggling now with what defendant did to them."
But Hastert had his defenders.
Some former high-ranking political figures publicly supported Hastert ahead of the sentencing, including his congressional colleague Tom DeLay and former CIA Director Porter Goss.
Former Illinois Attorney General Tyrone Fahner described Hastert in a March 8 letter as "a kind, strong, principled, and unselfish man," and urged the court to let him live out the rest of his days a free man "with his family and friends, and all those who love and admire him."
Hastert retired from teaching in 1981 to enter politics. He quickly won a seat in the Illinois legislature, serving three terms before ascending to Congress.
Before retiring from politics in 2007, Hastert championed tough punishment for child predators and worked extensively on health care laws.
Ironically, one of the most consequential laws Hastert helped shepherd though his chamber later proved to be his undoing: He helped pass the controversial 2001 USA Patriot Act, which increased the scope of cash reporting laws "to help trace funds used for terrorism."
This article has been updated throughout.
Before You Go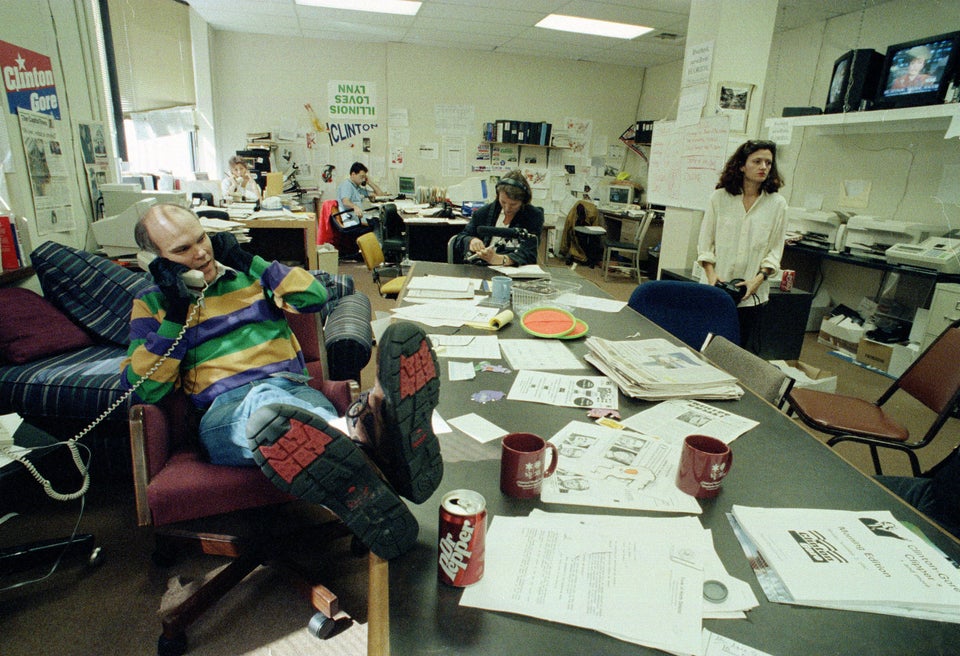 12 Fascinating Political Documentaries To Stream
Popular in the Community