WASHINGTON -- Lawyers for former House Speaker Dennis Hastert asked a federal court on Wednesday to sentence him to probation, arguing the Illinois Republican has already been tormented by damage to his reputation after his indictment for giving hush money to a former student he allegedly sexually abused.
Hastert's sentencing, they wrote, will "be the most difficult day" in his life, and he will appear before the court "deteriorated both physically and emotionally, undoubtedly in part due to public shaming and humiliation of an unprecedented degree."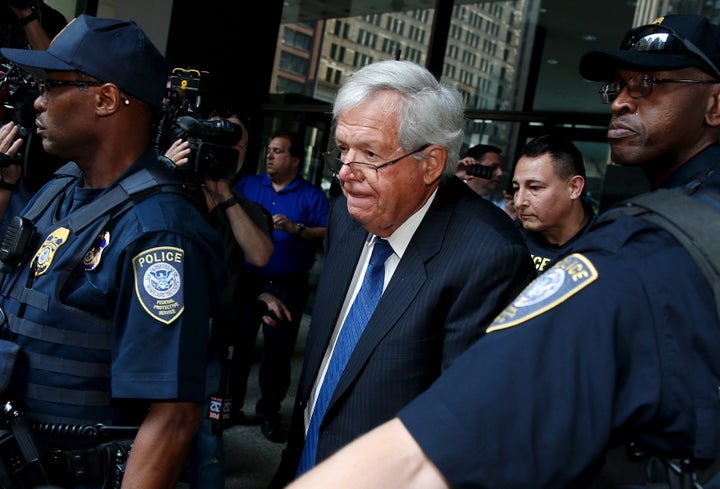 His lawyers wrote that while Hastert is "deeply sorry" for his "misconduct that occurred decades ago and the resulting harm he caused for others," his life had been "guided by his commitment to service." They touted his dedication to his family, his faith and his community, and asked the court to "consider the lives Mr. Hastert has impacted for the better, the contributions he has made, and his many good traits."
As speaker of the House, Hastert moved a constitutional amendment to ban same-sex marriage during his time in office, years after he allegedly sexually abused underage boys.
Hastert's lawyers do not go into detail about the "misconduct" he allegedly committed, but the court may hear specific allegations at the hearing. His alleged sexual abuse reportedly occurred before he entered politics, when he was a high school wrestling coach in the 1980s. He agreed to make payments to his alleged victim as part of an effort to keep information about his misconduct from going public.
But Hastert, his lawyers wrote, has been in a "state of despair caused by extreme isolation and the withdrawal of support from many friends and former colleagues." His work and reputation "have become forever tainted" and he has been "stung by the public repudiations of him that followed his indictment, including the removal of his portrait from the United States Capitol, the removal of his name from the public landmarks for which he passionately fought, and the characterization of his legacy as a 'black eye' on his county."
Hastert is "tormented" that his last name will disgrace his family members," his lawyers said, and he is concerned about the effect that the media coverage of his case has had on his wife.
"Mr. Hastert recognizes that his misconduct is the cause of this public disapproval and close scrutiny, and does not seek to shift responsibility," Hastert's lawyers wrote. "But as his counsel, we respectfully request that the Court consider the humiliation and isolation that Mr. Hastert and his family have already suffered when determining his sentence."
The lawyers also stated that Hastert would be in a nursing home if it wasn't for his family, reporting that he "needs assistance getting out of bed, toileting, bathing, and dressing himself."
No matter what punishment Hastert receives when he is sentenced later this month, things will never be the same as they were before allegations of sexual abuse came to light, the lawyers wrote.
"He knows that, for the rest of his life, wherever he goes, the public warmth and affection that he previously received will be replaced by hostility and isolation," his lawyers wrote. "Mr. Hastert recognizes that this change is due to his own conduct and is not in any way the fault of others, who rightly disapprove, but it is nonetheless painful for him."
Popular in the Community