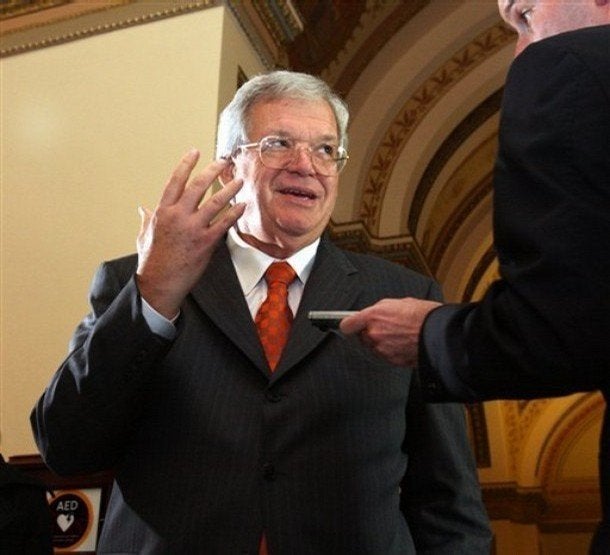 Former House Speaker Dennis Hastert spent his time in Congress railing against wasteful government spending. Since retiring from office in 2007, Hastert has spent over $1 million in taxpayer money to run his office in Yorkville, a western suburb of Chicago.
Expenses include Blackberries, satellite TV, consulting fees, plane tickets and three six-figure salaries for office employees.
According to the Chicago Tribune, the $6,300 monthly rent on the office goes to Norske L.L.C., a company owned by sons of Hastert's political mentor Dallas Ingemunson. $860 per month goes to leasing a GMC Yukon that stays on Hastert's property in Plano, Ill.; the vehicle is leased from Gjovik Auto, owned by Hastert donor and friend Olaf Gjovik.
The provision that pays for all this is the Supplemental Appropriations Act of 1971. The law reads:
Each former Speaker of the House of Representatives is entitled to retain, for as long as he determines there is need therefor, commencing at the expiration of his term of office as a Representative in Congress the complete and exclusive use of one office selected by him in order to facilitate the administration, settlement, and conclusion of matters pertaining to or arising out of his incumbency in office as a Representative in Congress and as Speaker of the House of Representatives. Such office shall be located in the United States and shall be furnished and maintained by the Government in a condition appropriate for his use.
Some expenses, like a $618 bill for moving a wall clock from Washington to Illinois, could arguably be justified under the statute. But the former Speaker also used the office to help Chicago's 2016 Olympic Bid, and to lobby for education reform.
"When taxpayers give a million dollars, they intend specifically for the former speaker to wind down and finish his old job, and not for him to have a second career," Charles Tiefer, a professor at the University of Baltimore School of Law, told the Tribune.
To guide him in this second career, Hastert's office spent $38,000 to retain the services of Burnham Strategies Group, a consulting firm. Burnham was started by Brad Hahn, Hastert's spokesman and former press secretary, and David From, his former campaign manager.
Popular in the Community