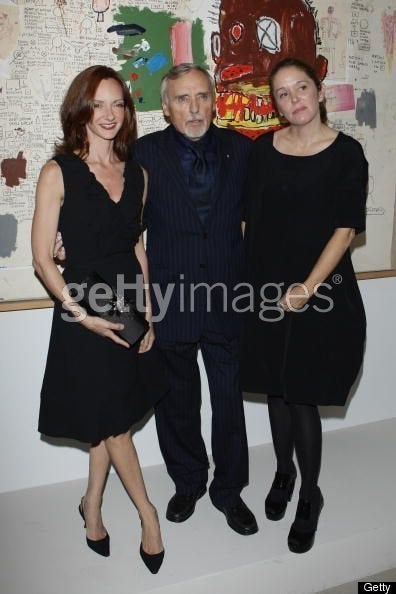 As Dennis Hopper is dying from cancer, a family confidant tells Huffington Post that his eldest daughter Marin is engineering a deathbed divorce and sending lies out to the media to try to bleed extra millions out of his sizable estate.
Hopper, who reportedly only has weeks to live, is currently heavily medicated at his Venice compound. Despite reports, the friend says he is not at the hospital.
Last Thursday, the actor filed for divorce from his wife of 14 years Victoria, the mother of his six-year-old daughter Galen. He has three older children.
"It's so horrible, Dennis is at home, Victoria and Galen are living there as well, and Marin is pulling her father out of his bed and driving him to the divorce lawyers. The poor guy has no idea what is going on," a friend of the couple told Huffington Post. "Even his lawyers are telling people he is on painkillers and is essentially sleeping all the time."
Hopper filed the divorce papers even though his lawyers would not let him sign other paperwork at the same time, telling one family member that he was in an altered mental state due to the copious amounts of drugs he is taking.
He is reportedly delirious and having difficulty speaking.
Marin, who lives rent-free at her dad's Venice compound with her child, makes a living booking appearances for her father.
One family friend told Huffington Post that Hopper delayed the start of his chemo therapy last fall so he could fulfill a paid gig Marin set up in Europe.
Friends believe that, given his condition, Marin is the one behind recent statements that have gone out in the actor's name. Dennis has not been seen in public for weeks and is not up to taking calls.
There have also been a number of false claims reported in the media regarding the estate plan that is in place.
"Victoria gets 25% of the estate unless Marin can push through this last minute divorce," says the family friend. "Victoria has never asked for more and has no plans to contest the will. However, if the divorce is finalized, Victoria and Galen get nothing."
Apparently the marriage rapidly deteriorated in recent months. Dennis changed his will last summer, right around his last cancer diagnosis, and started exhibiting "increasing signs of erratic behavior."
According to the friend, "Multiple police reports were filed. Dennis denied therapy to Galen and threatened to kill Victoria if she took their daughter to a therapist," and "three unlocked guns with safeties house were found in the house and turned over to police."
"Marin has always hated Victoria," the family friend explained to Huffington Post. "If she can get her father to reject Victoria on his deathbed, and get more money in the process, she'll be the happiest woman in Los Angeles."
Calling all HuffPost superfans!
Sign up for membership to become a founding member and help shape HuffPost's next chapter