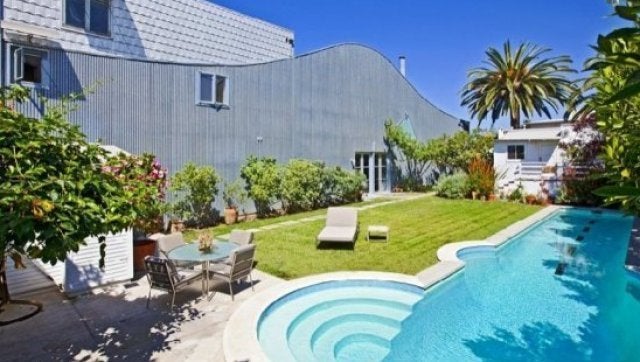 After two years jumping on and off the market, Dennis Hopper's Venice, Calif. compound has finally sold for $5 million.
The sprawling property, which encompasses 330, 334 and 326 Indiana Boulevard, boasts a corrugated metal barn-style structure designed by Brian Murphy, three two-story condominiums designed by Frank Gehry, a pool, pool house and a guest cottage.
When the home first hit the market July 2010 (soon after Hopper passed away), it was being offered as a whole compound for $6.245 million, but buyers had the option of breaking the property into four parts: the "Art Barn" for $3.965 million and the three condominiums, which ranged in price from $750,000 to $1.05 million.
We're thankful that the property is remaining intact. Real estate agent Jane Gaven confirmed to The Huffington Post that Hopper's iconic artist's compound will remain in one piece. After all, the home has an impressive history as a gathering place for celebs, artists and Hopper's famed art collection. It was also, in itself, one of Hopper's most visible works of art. Through the years, he was able to manipulate, craft and add on pieces of the property to reflect the changing needs of his art and his family.
Photos by Simon Berlyn, courtesy of the home's first official listing at Jade Mills Estates.
Popular in the Community