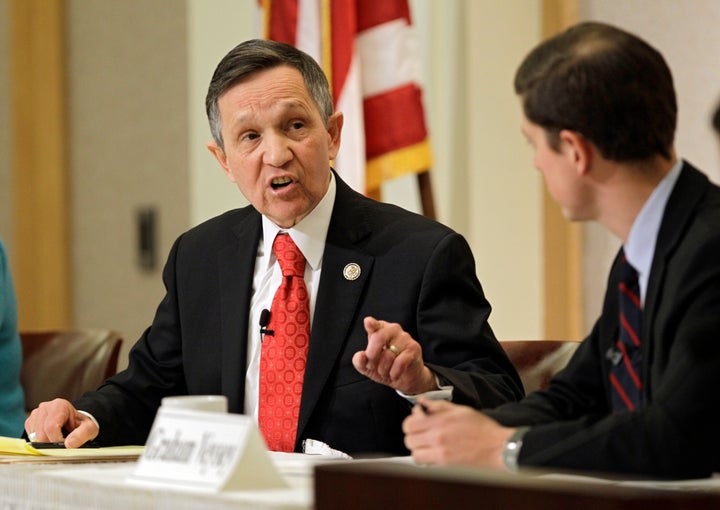 WASHINGTON -- For all the fanfare around President Barack Obama's speech on Tuesday declaring the war in Afghanistan over, at least one Democratic lawmaker isn't convinced that U.S. forces are actually leaving the country. Maybe ever.
Rep. Dennis Kucinich (D-Ohio) said Wednesday that the strategic partnership agreement signed Tuesday by Obama and Afghan President Hamid Karzai commits the United States -- its troops and potentially tens of billions more dollars -- to Afghanistan for the indefinite future.
"The plain fact is we are not exiting Afghanistan, despite the appearances which the White House is trying to create," Kucinich said in a statement. "We are staying."
The 10-year agreement defines the long-term political, economic and military relationship between the U.S. and Afghanistan. It phases out nearly all U.S. troops from Afghanistan by 2014 and transitions their responsibilities to Afghan-led security forces. But it doesn't commit to specific funding or troop levels beyond 2014; those decisions are being left up to Congress to decide. The U.S. has spent $443 billion since the war began in 2001.
In a live address to Americans on Tuesday night from Bagram Air Base outside of Kabul, Obama said that the agreement signals the end of the 10-year war and casts "the light of a new day on the horizon" for the U.S.-Afghan relationship.
"My fellow Americans, we've traveled through more than a decade under the dark cloud of war," Obama said. "Yet here, in the pre-dawn darkness of Afghanistan, we can see the light of a new day on the horizon. The Iraq war is over. The number of our troops in harm's way has been cut in half, and more will soon be coming home. We have a clear path to fulfill our mission in Afghanistan, while delivering justice to al Qaeda."
"This time of war began in Afghanistan and this is where it will end," he said later.
Kucinich took issue with Obama's call to "give Afghanistan the opportunity to stabilize" and "end this war responsibly" by keeping some U.S. forces in the country to help train Afghan forces.
The Ohio Democrat cited an article in The Atlantic indicating that the U.S. spends an estimated $14,000 per Afghan troop per year, which means the long-term costs to the U.S. to train the estimated 352,000 Afghan security troops would be more than $4 billion per year. He also pointed to an Associated Press report that he said raises "significant questions"about the ability of Afghan military forces to be self-sufficient.
"The assertion that maintaining a long-term presence in the country is the best way to prevent future attacks on the U.S. belies the reality on the ground: that our mere presence is destabilizing. The events of the past few months alone -- the Koran burnings, coordinated attacks by the Taliban in Kabul, and the killing of Afghan civilians by a U.S. solider -- should be enough of an indication that more time in Afghanistan is not the answer," Kucinich said.
"Have we learned nothing from ten years of quagmire?" he asked. "It is time to bring our troops home safely and responsibly."
Tony Blinken, Vice President Joe Biden's adviser for national security policy, skirted questions about whether U.S. troops could end up in Afghanistan for years to come.
"The president was very clear last night. We are ending the war in Afghanistan responsibly," Blinken said on MSNBC's "The Daily Rundown" on Wednesday morning. "This is really a very important moment marking the end of a war, but ending it responsibly. Ending it in a way that allows Afghanistan to move forward, on its own two feet."
Pressed further on what U.S. troop levels could look like in Afghanistan after 2014, Blinken conceded that those decisions remain open-ended for now. It remains to be seen whether there will be "some kind of residual force" after 2014, he said, and if there is, it would be "much smaller and very narrowly focused" on training Afghan forces to take over.
"I don't want to predict how that will play out," Blinken said. "But presumably, if [Afghan leaders] decide that they would like to have some ongoing presence and we decide it's in our interest, then we'll work on it and get it done."
Calling all HuffPost superfans!
Sign up for membership to become a founding member and help shape HuffPost's next chapter
BEFORE YOU GO