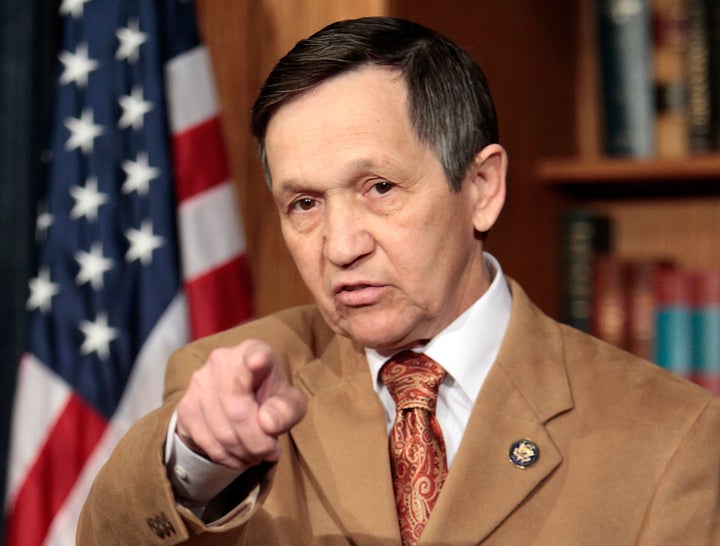 One of Congress' most outspoken anti-war members, Rep. Dennis Kucinich (D-Ohio), is calling on Apple to stop blocking a drone-strike tracking app and plans to hold a congressional briefing this Friday about drones. Apple has prohibited the app, called Drones+, saying it was "objectionable" and "crude," according to the program's designer, Josh Begley.
"What is 'objectionable and crude' are the drone strikes themselves," Kucinich told The Hill. "I strongly support any effort to bring increased transparency to our combat drone program. This program continues to operate without transparency and accountability."
A new petition from the group Action for a Progressive Future asks Apple to allow the app and reads in part: "We are interested in knowing where our government is using drones and has killed people, not in celebrating that killing. The Drones+ app simply collects locations as reported in the media and vetted by a well-respected journalist organization."
Apple did not immediately respond to a request for comment from The Huffington Post. As Wired.com reported in late August about Apple blocking the app:
It seemed like a simple enough idea for an iPhone app: Send users a pop-up notice whenever a flying robots kills someone in one of America's many undeclared wars. But Apple keeps blocking the Drones+ program from its App Store -- and therefore, from iPhones everywhere. The Cupertino company says the content is "objectionable and crude," according to Apple's latest rejection letter.

It's the third time in a month that Apple has turned Drones+ away, says Josh Begley, the program's New York-based developer. The company's reasons for keeping the program out of the App Store keep shifting. First, Apple called the bare-bones application that aggregates news of U.S. drone strikes in Pakistan, Yemen and Somalia "not useful." Then there was an issue with hiding a corporate logo. And now, there's this crude content problem.
Kucinich is holding a briefing Friday about drones and will hear from Robert Naiman of the group Just Foreign Policy, Medea Benjamin of Global Exchange and Code Pink and Professor James Cavallaro of Stanford and the co-author of a recent report titled "Living Under Drones: Death, Injury and Trauma to Civilians From U.S. Drone Practices in Pakistan."
There have been hundreds of drone strikes in the last several years, as President Barack Obama has ramped up a program started under President George W. Bush. The New America Foundation, which tracks the strikes, reports on its website that "337 CIA drone strikes in Pakistan have killed an estimated 1,908 to 3,225 people since 2004, of which 1,618 - 2,769 were reported to be militants. This means the average non-militant casualty rate over the life of the program is 15-16 percent. In 2012 it has been 1-2 percent, down sharply from its peak in 2006 of over 60 percent."
While the drones have killed scores of militants in the past few years, there has been debate on whether the strikes are ethical and even legal.
Atlantic blogger Conor Friedersdorf wrote in a widely read post in late September that "Obama terrorizes innocent Pakistanis on an almost daily basis. The drone war he is waging in North Waziristan isn't 'precise' or 'surgical' as he would have Americans believe. It kills hundreds of innocents, including children."
But in a New York Times Sunday Review article entitled "The Moral Case for Drones," reporter Scott Shane wrote about Bradley J. Strawser, a former Air Force officer and an assistant professor of philosophy at the Naval Postgraduate School, who said that he came around to accepting drone strikes. Strawser argued that not only are they ethically permissible, but perhaps "ethically obligatory, because of their advantages in identifying targets and striking with precision."
Support HuffPost
The Stakes Have Never Been Higher
Popular in the Community