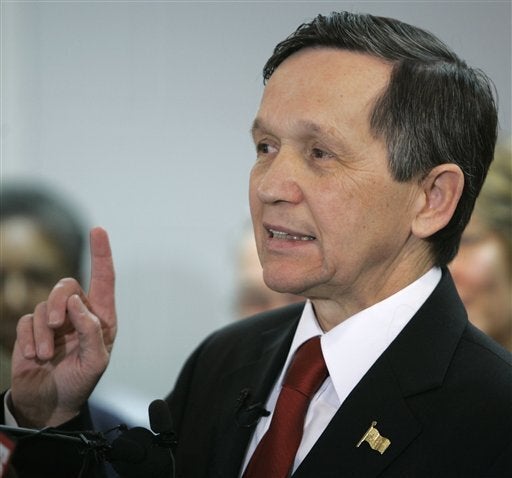 Dennis Kucinich deserves our thanks today.
I'm not a disgruntled supporter from the primaries. I agreed with most of what he had to say, but it was obvious he wasn't going to be the nominee.
No, he deserves our thanks and gratitude for standing on the floor of the U.S. House of Representatives this afternoon and reading the thirty-five Articles of Impeachment of George W. Bush.
Even those who say, "We must look forward, we know how bad the Bush administration has been, but why waste our time on this," must stop and listen.
The breadth and length of Kucinich's articles are astonishing. They sum up Bush's evil reign succinctly and to hear them recited been said on the floor of Congress makes me wonder how American could have possibly put up with this despotic murderer and thief for so long.
He should be impeached and removed. He won't be. I can understand why the current Democratic leadership, in its myopic lack of vision takes what they think is the safe political stance. I also understand that they don't want to distract the electorate during an election.
But 75% of the American public thinks he's a rotten president and a large percentage of that public think he's the worst president in American history.
I don't think we should shut up about that.
Bush should not be able to just leave office and slink on back to Texas or Kuwait or wherever he's going to end up and live off the millions made from the blood of American soldiers.
Is there anybody here who wouldn't send him to jail?
I know our nightmare is about to be over, but I do not forgive.
Will update links as they become available.
Popular in the Community