Dennis Rodman, retired basketball star, will not be present when President Donald Trump and North Korean leader Kim Jong Un meet in Singapore on June 12.
However, a representative for Rodman confirmed on Wednesday that the Hall of Fame athlete plans to fly to Asia to provide "moral support" during the summit. Rodman has a long history with the Kim family, and was once a contestant on Trump's show "Celebrity Apprentice."
Rodman tweeted Friday about his trip, saying he's ready to "give whatever support is needed to my friends."
Why is Rodman flying across the world uninvited? It's complicated, but we're here to help set the record straight.
Is Rodman going to the meeting itself?
Will Rodman meet with Trump or Kim outside the summit? 
That's unclear. None of the parties involved have announced a meeting outside the highly anticipated U.S.-North Korea summit. 
So why is Rodman flying to Singapore?
This is where things get a little harder to understand. Rodman's agent claimed that the former power forward is headed to Asia to provide "moral support" to both Trump and Kim, according to The Washington Post. 
Rodman echoed that sentiment in a tweet Friday, where he also confirmed that a cryptocurrency company called PotCoin would sponsor his trip. The company sent Rodman to North Korea last June and on a "peace mission" around Asia in December. Rodman wore PotCoin merchandise during last June's trip, sporting a branded T-shirt and hat.
PotCoin's market capitalization rose to over $40 million after Rodman's 2017 visit to North Korea, Reuters reported. PotCoin did not immediately respond to HuffPost's request for comment.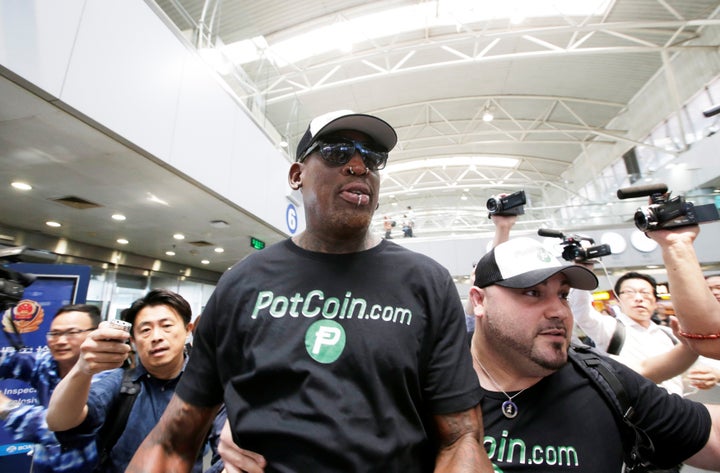 What is Rodman's relationship with Trump? 
Rodman seems to be chummy now with the president, who called Rodman a "nice guy" during his Thursday press conference with Abe. Rodman appeared on Trump's reality show "All-Star Celebrity Apprentice" in 2013.
What does Dennis Rodman have to do with North Korea?
Since then, Rodman has made multiple trips to North Korea. He flew there last year on the same day Kim announced the release of American prisoner Otto Warmbier. Rodman suggested he was partially responsible for Warmbier's release in a subsequent "Good Morning America" interview.
Does Rodman have any government power on his trips? 
Absolutely not. Rodman's visits to North Korea have always been in his capacity as a private citizen, though he has complained about the U.S. government's lack of support.
"I just wish people would actually take advantage of the situation that I have, instead of ridiculing me about everything I do," Rodman told DuJour magazine in 2014. "It's so unfair. It's very hard to try to do something like that in North Korea by yourself when the government don't want to help you."
Rodman was reportedly investigated by the Treasury Department in 2014 for possibly violating sanctions that prohibit importing luxury goods into North Korea. The basketball star was on a trip to celebrate Kim's 31st birthday, armed with gifts that included Irish Jameson whiskey, European crystal, an Italian suit, a fur coat and an English Mulberry handbag for Kim's wife, according to The Daily Beast.
This story has been updated.
Calling all HuffPost superfans!
Sign up for membership to become a founding member and help shape HuffPost's next chapter