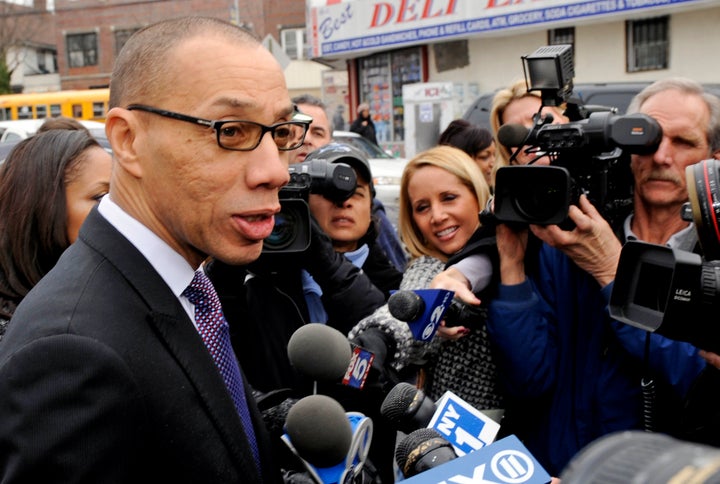 NEW YORK -- One week after magazine maven Cathie Black's abrupt departure from her post as New York City schools chancellor, it's official -- Mayor Michael Bloomberg's handpicked appointee Dennis Walcott will fill her shoes.
Thursday morning, New York State Education Commissioner David Steiner concluded he would grant Walcott, deputy mayor of education, the waiver he needed to assume chancellor responsibilities. The waiver was required because he does not have an official New York state superintendent's license.
The decision comes one day after a panel Steiner convened on the issue unanimously recommended Walcott receive the waiver.
"Mr. Walcott's training, background and experience are substantially equivalent to the requirements set forth in law," Steiner concluded in the 12-page document that details Walcott's path from the classroom to City Hall. "Mr. Walcott's exceptional record of successfully leading complex organizations, his deep knowledge of the New York City School District, and the issues and challenges it faces, and the leadership qualities he manifests, warrant certification for service."
Walcott's official entry into the chancellor's office of comes after a period of tumult for the Department of Education. When Bloomberg announced Black's appointment following the resignation of Chancellor, and former trust-busting attorney, Joel Klein, New Yorkers were dumbfounded. Black's tenure was riddled with gaffes and confusion. Walcott is perceived as a safer, more well-respected choice -- though he has yet to specify what, exactly, would define success in his new role.
Black, too, required a waiver to become chancellor. But Walcott's waiver has gone more smoothly than the contentious process Black faced. As the New York Daily News noted, there are key differences between both the appointees and the waiver processes:
The composition: Three of the panelists who analyzed Black had worked for Bloomberg; four were city employees. This time, only one of eight panelists worked for the city.
The recommendation: In Black's case, the panel -- led by Columbia University's Teachers College President Susan Fuhrman -- advised Steiner against Black's appointment. Walcott's panel unanimously recommended the choice.
The conclusion: While Cathie Black was eventually approved, her lack of classroom experience led Steiner to mandate that she only be appointed with a "chief academic officer" under her. Walcott simply received the rubber stamp.
New Yorkers and education experts criticized Black because of her lack of education experience. A former publishing executive and Chairman of Hearst Magazines, she had stepped into a city school precisely once.
Walcott's teaching resume is slightly less thin: he spent 18 months as a kindergarten teacher in a private child-care center. He also served as an adjunct professor at York University for a year.
Outside of the classroom, though, he has shaped education policy -- formerly as a member of New York City's now-nonexistent Board of Education, and, until now, as Bloomberg's deputy mayor for education.
In addition to her lack of education credentials, critics lambasted Black for the lack of her administration's transparency. Since the announcement of his appointment last week, Walcott has spent his time trying to turn that perception on its head, making public appearances in many city schools -- including one at his alma mater Thursday.
In an April 7 meeting, Walcott said he would continue implementing Bloomberg's and Klein's education policies, without adding too many details. Until now, those procedures focused on increasing principal accountability -- giving school leaders more choices in how they run their organizations and holding them responsible for their results. Walcott has signaled that the next step is extending that buy-in to city parents.
Klein has explained his own take on the situation: "When you bring in somebody new and somebody who really hadn't grown up in the environment, it takes some adjustment time and I think that caused some confusion," he said in an interview with Bloomberg Radio that will air on Friday. "And obviously, as the mayor concluded, this didn't work out well, and he stepped up and said that it was time for a change and made that change and appointed Dennis Walcott."
He added: "I think going forward [Dennis Walcott is] going to be an exceptionally strong and exciting leader for the Department and I think just what they need right now."
REAL LIFE. REAL NEWS. REAL VOICES.
Help us tell more of the stories that matter from voices that too often remain unheard.