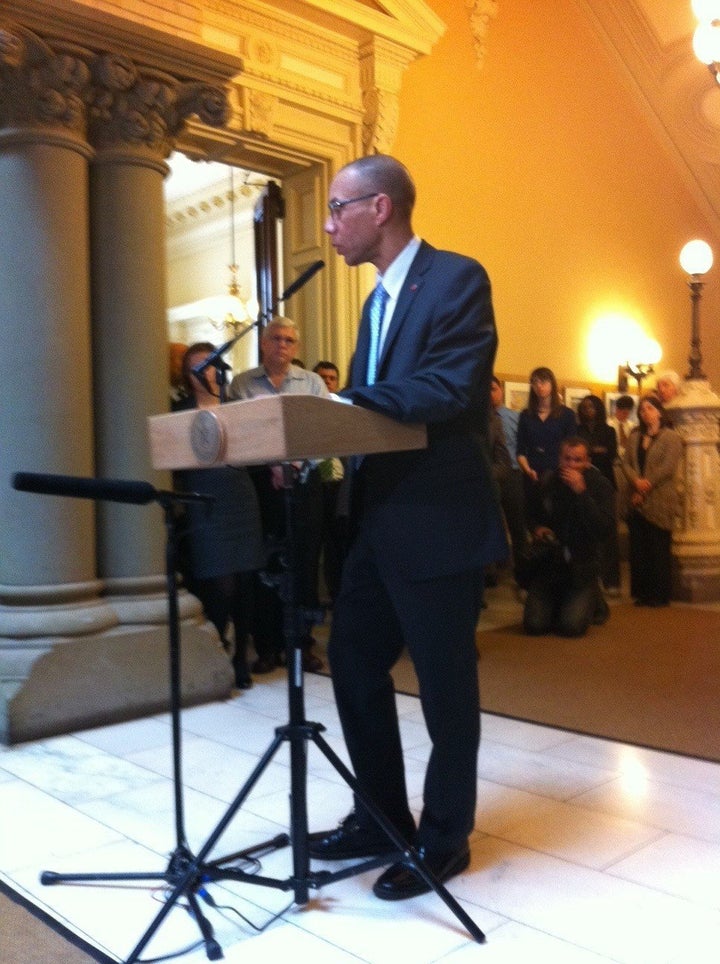 NEW YORK -- From the cheering and excitement swirling around Tweed Courthouse this afternoon, one thing was clear -- Dennis Walcott has something Cathie Black was rumored to lack: respect.
"Our one bottom line is our 1.1 million students," the nominated schools chief told Department of Education executives, employees and reporters to thunderous applause.
Walcott has served as a deputy mayor to Mayor Michael Bloomberg's from the beginning of his first term. This morning, Bloomberg announced he would appoint Walcott to the position of Schools Chancellor just months after publishing executive Cathie Black took over the post. Walcott's appointment is pending a waiver from the state because he lacks a formal superintendent's license.
Walcott held a getting-to-know-you meeting Thursday afternoon for staffers and the New York press corps.
"You guys are applauding now," he said. "People may be saying nice things, [but] that can turn around just like that. Even when it turns around just like that, we have one responsibility; and that one responsibility is all of our students, plain and simple."
Walcott used the platform to qualify a few things. He stressed that going forward, the administration's education policies -– the accountability-focused rules put into practice by Black's predecessor, Joel Klein -- "will be basically the same." These policies include a grading system for schools that has resulted in closures and turnarounds.
Those unchanged policies include promoting charter schools. "I wish I had the option [of school choice] when my children were attending public schools that we have today," Walcott said.
When it comes to student performance, he added he plans to be "visible" in closing the achievement gap.
When asked about lessons to take from the last three months under Black, during which the school system lost key leaders, Walcott affirmed his commitment to and belief in mayoral control of schools -- the system allowed Bloomberg to appoint wild card candidate Black in the first place. "We fought for control because in the past it was a dysfunctional system," he said.
Walcott deferred to Mayor Bloomberg's decision to appoint Black as chancellor. "We always learn lessons," Walcott said, "but really the mayor made a selection, and I'm very comfortable, quite frankly, with the selection."
He thanked Black for her three-month stint, saying she is "a very jazzy person." Walcott added that he will collaborate with her "in whatever way Cathie wants to. I value what Cathie represents," he said.
Addressing one of the major complaints against Black, Walcott stressed his own commitment to constant communication. "I'm just going to be all over the place," he said, "seeing how you're doing, listening to what you have to say, talking to the people in the communities, the parents in the schools, wherever."
Related
Popular in the Community