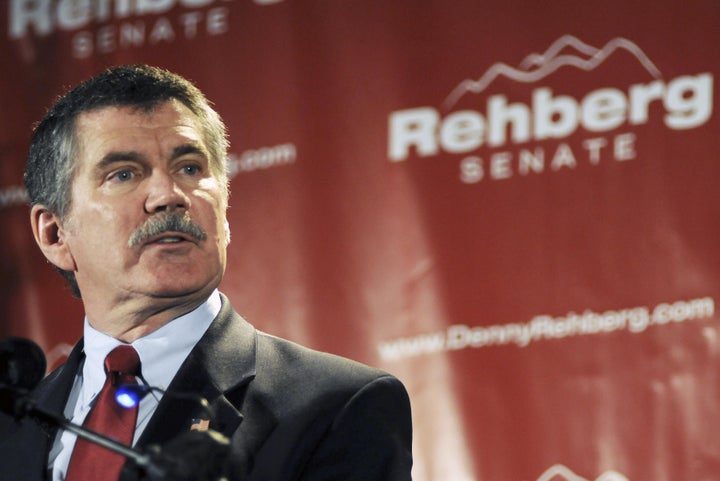 WASHINGTON -- Pell Grants are the nation's largest financial aid program, providing low-income students with grants to help pay for the rising cost of attending college. But the cost of the program is also growing rapidly, set to exceed $40 billion for the 2012 fiscal year.
Some lawmakers have been exploring ways to reducing the costs of the programs by lowering the maximum grant size -- which is currently $5,550 -- or somehow restricting eligibility. Rep. Denny Rehberg (R-Mont.) who chairs the House Appropriations Subcommittee on Labor, Health, and Human Services, Education that deals with the program, has examined whether there are ways to tie the grants to achievement or graduation rates.
In a radio interview on Friday, he compared Pell Grants to "welfare" and decried the fact that students who receive them don't have any sort of graduation requirement and could go straight from the education grant to "food stamps."
"So you can go to college on Pell Grants -- maybe I should not be telling anybody this because it's turning out to be the welfare of the 21st century," said Rehberg in an interview with Blog Talk Radio. "You can go to school, collect your Pell Grants, get food stamps, low-income energy assistance, section 8 housing, and all of a sudden we find ourselves subsidizing people that don't have to graduate from college. And there ought to be some kind of commitment and endgame."
Rehberg added under the federal program, a student could "go to school for nine years on Pell Grants and you don't even have to get a degree."
Jason Delisle, director of the Federal Education Budget Project at the New America Foundation, took issue with Rehberg's comments.
"I don't know if it's a fair characterization that someone has decided to go through the hoops of applying to college, getting enrolled and showing up every day because it's the welfare lifestyle," he said. "If the issue is people are being lazy and living off the dole, so to speak, I don't think their first step is to enroll in college."
"The other programs that he's listed here are minimal subsistence emergency-type programs -- like food stamps and energy assistance and section 8 housing -- providing the bare essentials for people who can't afford them. Pell Grants aren't even in that category," he added.
Rehberg's spokesman didn't provide additional comment when called by The Huffington Post but urged that people listen to the entire context of the congressman's comments.
On his website, Rehberg says that he supports the Pell Grant program but is concerned at their growing cost.
"Pell Grants open a lot of doors, but they rely on a solvent government," warned Rehberg. "Getting our deficit under control and making sure Pell Grants can be sustainably funded is the only way we can guarantee that they will still be around for the next generation."
But in Montana, Rehberg has been taking some heat for voting for the House GOP budget resolution, which would reduce the maximum Pell Grant from $5,500 to $4,705 and narrow the eligibility of applicants. Financial aid officials at the University of Montana and Carroll College in Rehberg's home state recently told reporters that they were disappointed in his vote and urged Montana's two U.S. senators to preserve funding.
In Montana, 24,000 students are scheduled to receive a Pell Grant next year. If the House budget bill becomes law, the state would lose $15 million in funding for the program.
Delisle agreed that getting the program's costs under control is tough politically -- especially if lawmakers want to keep the maximum award at current levels -- but noted that the Obama administration has proposed some solutions that Republicans have opposed.
"The Obama administration has been trying to restrict Pell Grant eligibility at for-profit colleges that have really poor outcomes for students," he said. "Many Republicans have been fighting it tooth and nail. So it's interesting to hear them say things like how they're very concerned about all this Pell Grant money being wasted on people who don't get degrees and seem to be sitting around not doing much of anything. We know that if that type of behavior is going on, it's going on most at these for-profit colleges. There seems to be a major inconsistency in some of the rhetoric there."
Popular in the Community