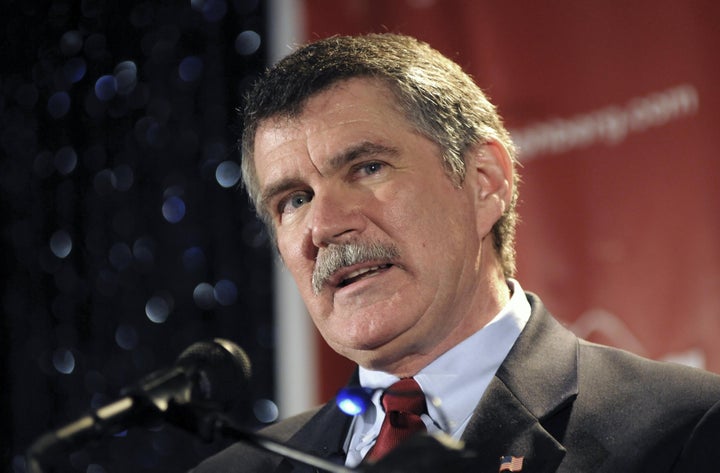 WASHINGTON -- Montana lawmaker Denny Rehberg was one of just four Republican House members to vote against Rep. Paul Ryan's (R-Wis.) budget proposal on Friday, a move that could complicate his relationship with Tea Party supporters in the state as he runs for the U.S. Senate in 2012.
Rehberg is challenging incumbent Sen. Jon Tester (D-Mont.) next election, and Eric Olsen, co-founder of the Tea Party group Montana Shrugged, is worried that the Rep. is dropping some of his conservative positions in the process. He said that his group, which claims to be the largest Tea Party organization in the state, believes Rehberg should have voted for Ryan's budget plan.
"I think he's trying to vote for a political election now, instead of voting with his heart," said Olsen, who says his 5,000 members helped re-elect Rehberg for Congress.
"It doesn't matter to me whether it's a Republican plan or a Democrat plan, what matters is whether or not the plan is right for Montana," Rehberg wrote. "This budget -- the first one we have even considered in two years -- has a lot of good things in it that I fully support," among them, simplifying the tax code and reducing non-security discretionary spending to below 2008 levels.
"But there are still too many unanswered questions with regard to Medicare reform," he said, "and I simply won't support any plan until I know for a fact that Montana's seniors will be protected."
Rehberg also said he objected to the fact that Ryan's plan -- which was just unveiled on April 5 -- was being "rushed through with little to no public input."
"That's just plain wrong," he added. "Montanans deserve a chance to weigh in on this. Additionally, as Chairman of the Labor, Health and Human Services Subcommittee it will be my responsibility to oversee the budget and at this point, there are just too many unanswered questions as to exactly how it will work. I intend to craft a common sense funding bill that works for Montana and that incorporates input from Montanans."
Olsen likened Rehberg's statement to an "election speech," adding, "it's Montana this, Montana that, senior this, senior that. It doesn't have any basis in it."
"Why would we hold up a $6 trillion attempt to get control of the budget? You know how everything is; it's negotiable when you get into these things. So why just vote against it right away?" he asked. "I don't think it helps him in Montana. The Tea Party movement is huge up here."
Montana has voted for Democratic presidential candidates only twice since 1948, but in 2008, Sen. John McCain (R-Ariz.) just narrowly beat President Obama (50 to 47 percent). As Rehberg runs for Senate, he faces the tricky task of keeping his base happy while winning over some of the independents and conservative Democrats who backed Obama.
Seventeen percent of Montanans are enrolled in Medicare, slightly above the U.S. average of 15 percent. Montana Shrugged can't endorse candidates since it's a nonprofit, but its members, of course, are often active in elections. The average spending per enrollee is $5,650, lower than the national level of $7,439.
"We're in a quandary now with Denny Rehberg," concluded Olsen. "What do you do? We don't want Tester in there, but is Denny the right answer? I think there's still an opening there for a Tea Party person to step up and at least make them nervous and keep Tester nervous too."
Adi Cohen contributed reporting.
Popular in the Community