Denny's has officially hopped aboard the Absurd Sandwich bandwagon with the release of their fried cheese melt. The new sandwich addition to its value menu consists of fried mozzarella sticks and melted American cheese grilled between two slices of sourdough bread, served with French fries and a side of marinara sauce for $4.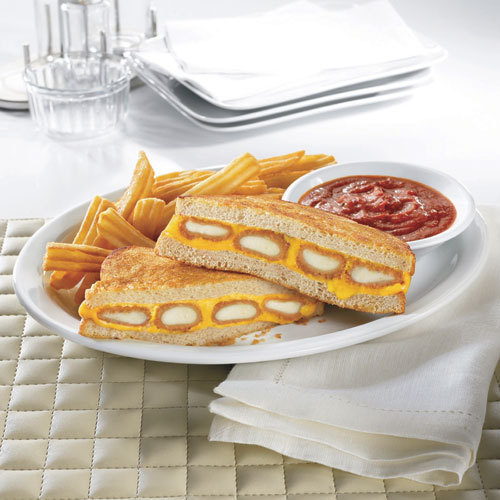 Denny's fried cheese melt ($4)
Daniel Maurer at Grub Street writes: "Actually, the only place mozzarella sticks belong is in a sandwich (just take a look at this and this, and see also the Seaside Tony), so we're pretty okay with this.
Gawker calls it "Culinary Terrorism": "To be clear: Your breaded fried cheese will now be smothered in more cheese, sandwiched in more bread, and fried again. Concentric nesting dolls of deep fried cheese! It's a thing of wonder, really."
And Eater hoped for more: "We have to say, we're a little disappointed in Denny's. They missed a real opportunity to take this sandwich to a whole other level: If only they'd swapped out the individual slices of bread with individual grilled cheese sandwiches! Or offered a cheese dipping sauce so you could eat three, distinct cheeses at the same time."
Related