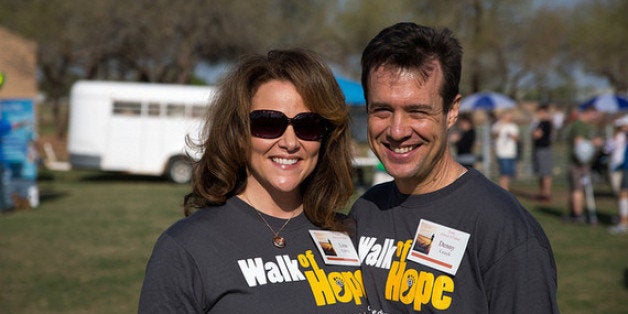 As National Infertility Awareness Week comes to a close, I wanted to hear from a voice that often isn't as prominent during the family building journey -- the male perspective of infertility. Denny Ceizyk and his wife Lisa struggled for six years with infertility, and it was a personal blow to Denny when he found out he had "the sperm count of someone exposed to high doses of nuclear radiation." Over the course of their infertility journey, the couple spent $70,000, visited four fertility doctors, 11 embryo transfers, four IVFs and had three miscarriages. After a grueling and emotional journey, Denny and Lisa welcomed a daughter, Elliana Faith.
Since then, Denny has been extremely active in the infertility community. In 2010, Denny created a blog, Almost a Father, to share his story and raise awareness of the disease. Almost a Father was a nominee for best blog during the National Infertility Awareness Week's 2013 Bloggers Unite Campaign. He has also emceed for several of RESOLVE's Arizona Walks of Hope, nationwide community events that support those with infertility. In 2014, Denny received the RESOLVE Hero award for his service to the infertility community.
Barbara: You decided to go public about your infertility - why did you decide to tell your story? Who did you tell?
Denny: My wife and I first sought out an infertility therapist in the early years of our struggle. But I realized that for me, it made me feel better to talk out loud with others experiencing the same struggle. As a result, my wife and I founded the first couple's infertility support group in the country under the auspices of the Harvard Mind Body Clinic.
I also began writing about the infertility journey specifically from my perspective as a male dealing with the disease. I started my blog, Almost a Father, which has led to writing a book about our story. My wife and I also appeared on several radio programs and the CBS Early Show.
Barbara: How have support groups helped you during your infertility journey?
Denny: Traditionally, it was the man's role to hand out Kleenex at support groups and be a form of silent support. In the couples support group, we encouraged interaction from both partners, developed an environment of support, and kept spouses from feeling isolated. Now, creating connections with other couples who have gone down the infertility path has normalized the experience.
Barbara: You have emceed at several Arizona Walks of Hope events, which help support those with infertility. Can you tell us about your experience?
Denny: I love hosting the Walks of Hope because it feels like I'm back home. I'm not isolated and I know I'm with like-minded people who understand the disease and the journey.
Barbara: Why is it important for men to be advocates for infertility awareness?
Denny: During the infertility process, men don't know their role and feel they don't know how to participate. It's a very odd and surreal experience. In a way, men have to go through an emotional adjustment. Men are supposed to be strong and silent, when in fact, it's the opposite. Men need to evolve and find a way to be part of the process. Ultimately, it will strengthen their experience with their spouse.
Learning about infertility, including the many acronyms, statistics and terms, helps develop a new sense of intimacy with your partner. As men, educate yourself and find roles you can take on. For example, I was the designated time keeper at family-oriented events. When the conversation turned to the new baby in the room, my wife and I would excuse ourselves. These are just a few ways to help men not feel alone.