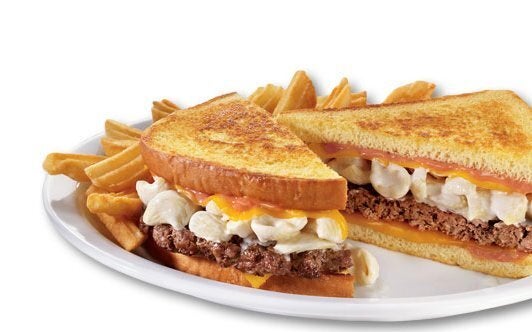 Last year, Denny's was upbraided for introducing a sandwich, the Fried Cheese Melt, with altogether too much cheese and too many calories. But this week made it clear that the Fried Cheese Melt was a small taste of things to come.
Yesterday, the casual dining chain unleashed the news that the Fried Cheese Melt was but one of nine items on its new "Let's Get Cheesy" menu, which features dairy-filled dishes for every meal. The smallest item on the "Let's Get Cheesy" menu is a dainty side of macaroni and cheese. It has just 140 calories. The other eight menu items all have more calories than the infamous KFC Double Down Sandwich. But even in this lofty company, one sandwich reigns supreme: the Denny's Mac N' Cheese Big Daddy Patty Melt.
HuffPost Food would love to have conducted a taste test of the three sandwiches, so we would be able to tell you which to order next time your jeans are loose. But our cardiologists advised us against it, and there is no Denny's in Manhattan, so you'll have to undertake that journey on your own.