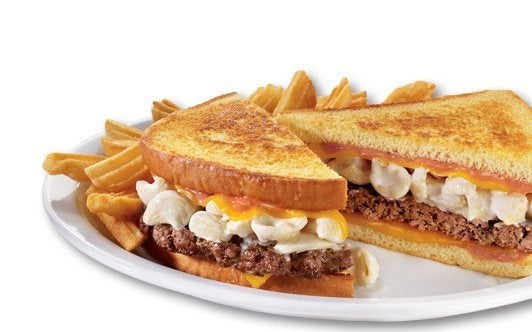 Denny's has definitely made a name for itself when it comes to novelty food offerings intended to clog our arteries. The chain brought us the Fried Cheese Melt (a grilled cheese sandwich stuffed with marinara and mozzarella sticks) and the Maple Bacon Sundae (an ice cream treat topped with maple syrup and bacon). Its latest special menu after the Tour of America is the "Let's Get Cheesy!" menu, with limited time offerings like the Strawberry Pancake Puppies with Cream Cheese Icing, and the "Winner Winner Cheesy Dinner," a platter of chicken fried steaks smothered in Pepper Jack cheese sauce and served with a side of macaroni and cheese. But the item getting all the buzz on the internet is the Mac 'N Cheese Big Daddy Patty Melt, where burger patty melts meet macaroni and cheese in between two pieces of buttery bread.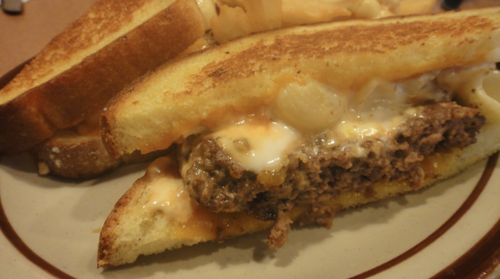 The Claims: The Mac 'n Cheese Big Daddy Patty Melt is a hand-pressed beef patty topped with macaroni and cheese, melted cheddar cheese and Frisco sauce on grilled potato bread. It packs a big daddy punch of 1690 calories -- the highest calorie count of anything on the cheese-themed menu -- and all for just $7.99. It comes with a side of fries that you can add extra cup of cheese with for 69 cents. (Prices may vary.)
The Verdict: D+. Like Denny's Maple Bacon Sundae, this is one offering that fails to live up to its internet hype. Again it was something I was looking forward to trying. Sure the idea is awesome for the novelty of shoving as much cheesy calories as you can in a burger sandwich, but the taste is just bland. You would think that with all that cheese, it would be super salty, but that's an expected taste that's missing, even with the added cheddar and tangy Frisco sauce. The nutrition chart reveals that while this ultimate patty melt is the item with the most calories, it's the second to last in terms of sodium content -- 2010mg, compared to 1950mg in the Cheese Breakfast Sampler. (Winner Winner Cheesy Dinner "wins" at 3330mg of sodium, if you can call that winning.) I even got the extra cup of cheese sauce -- apparently it's the same sauce used in the macaroni and cheese -- but that didn't add anything to the taste, just more calories.
The texture of the sandwich is the only thing really going for this sandwich, and it's decent. The grilled bread with butter has a nice crunch as it should. The burger feels like a flat burger, which is fine, and the only way to describe the sensation of big pieces of elbow macaroni in your mouth is that it feels like elbow macaroni in your mouth -- just mixed in with everything else. All the cheese and sauces keep the sandwich moist, so if anything, at least this sandwich isn't dry.
Suggestion to Denny's: maybe add bacon to this one next time; you'll not only get the saltiness that this sandwich is lacking, but you'll outdo yourself with a 2000+ calorie sandwich that is definitely buzzworthy -- just maybe add a coronary disease disclaimer at the bottom of the menu.
REAL LIFE. REAL NEWS. REAL VOICES.
Help us tell more of the stories that matter from voices that too often remain unheard.