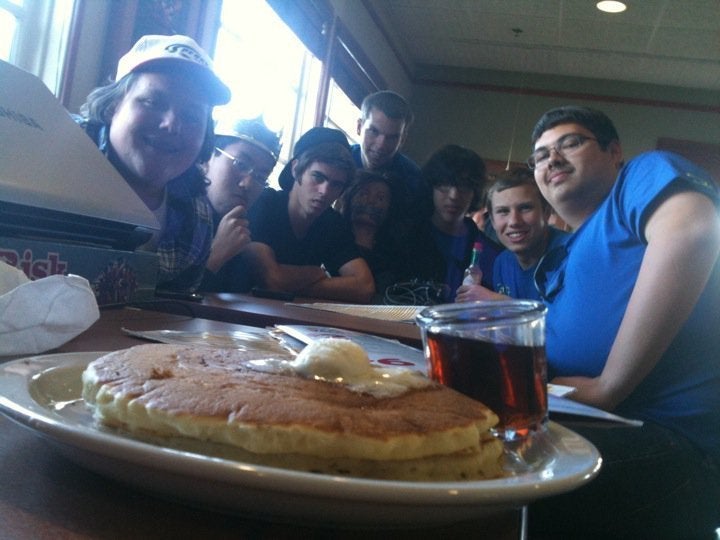 To anyone who ever stuffed down just one more dessert to make the most of an all-you-can-eat meal, you have just been outdone.
Seven teenagers in California nearly shut down the Foothill Ranch Denny's over Memorial Day Weekend when they ordered the $4 all-you-can-eat pancake special and indulged in a 24-hour breakfast marathon.
One of the boys is the son of OC Register reporter Greg Hardesty, who over the same weekend ran 24-hours straight to benefit the Wounded Warriors Project, which assists injured soldiers when they return from combat. Even though one epic eater vomited and another nearly fell asleep on the Denny's toilet, Hardesty says he isn't sure which endurance challenge is more physically draining.
"First I thought it was an amusing contrast -- me running 24 hours, and the boys stuffing their faces for 24," Hardesty told AOL Weird News by email. "Then I wondered which feat was better health wise, since my body took a pounding."
According to Hardesty's calculations, the boys devoured 301 pancakes in total, averaging more than 7,000 calories per person.
Still, variety took precedence over gluttony, as some of the boys occasionally ordered bacon.
"We thought it would be fun," said Brenden Griffin, the boy who came up with the pancake idea, told Hardesty in the OC Register. "Plus, we wanted to be stupid teenagers."
At one point, the restaurant literally ran out of pancake batter, forcing managers to make a quick supermarket run to purchase more and leaving dad with a lot to be proud of.
"I'm very happy that the boys, who are 17, were spending a good chunk of Memorial Day weekend doing something so ... wholesome, as opposed to slamming beer bongs or chasing women," he said. "Plus, I thought [they] showed a lot of financial acumen by essentially ripping off Denny's. Good job, boys!"
For more, check out the full account in the OC Register.
Calling all HuffPost superfans!
Sign up for membership to become a founding member and help shape HuffPost's next chapter