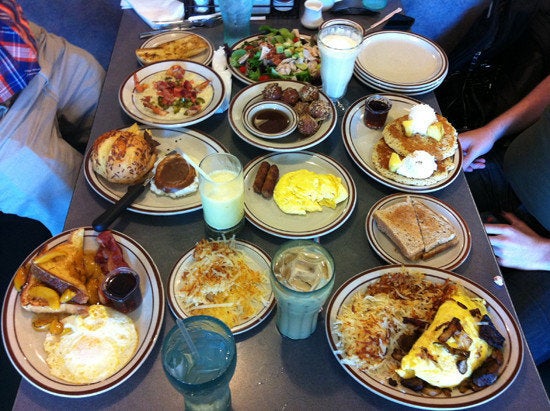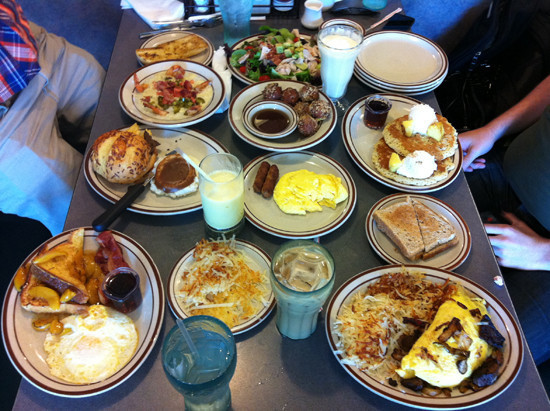 The northeast takes the classic American diner for granted; the rest of the country isn't accustomed to that late night culture of burgers, grilled cheeses, meatloaf, or a multitude of other platters served in a vinyl booth. However, Denny's has filled this void for years, branding itself as "America's Diner" for the masses — and with their latest limited time menu, they are putting the "America" into that phrase with their "Tour of America." Sort of. Ten items comprise of this American tour, each representing a different region of the United States — although any attempt at a balance of representation is severely skewed; about of third of that supposedly comes from Hawaii, and Texas barbecue isn't on there at all. Obviously the menu is merely an American-branded selection of platters they conjured up with the ingredients they already have in the kitchen, plus a lot of coconut. Alas, beggars can't be choosers when you go to Denny's, especially when you're "on tour" with Huffington Post Travel, ordering everything on the menu.
The Claims: Representing the entire northeast is the Philly Cheesesteak Omelette, with "prime rib, fire-roasted peppers and onions, sautéed mushrooms, and melted Swiss cheese;" from the Midwest is the Midwestern Meat & Potatoes Sandwich, with gravy not only on the potatoes but in the sandwich itself; California inspired a Club Salad, with turkey, bacon, tomatoes and avocadoes over mixed greens; the South has a Shrimp & Grits platter with chopped jalapeños, tomatoes, and bacon, plus a Georgia Peach French Toast; and from Hawaii, the Tropical Pancakes with macadamia nuts inside, topped with pineapple and a "coconut whipped topping," plus their fried counterpart, the Tropical Pancake Puppies, which includes those flavors, plus chocolate chips. Rounding out the tour are three beverages: the Hawaiian Tropical Smoothie, the Florida Orange Milk Shake, and the Pacific Northwest Iced Coffee.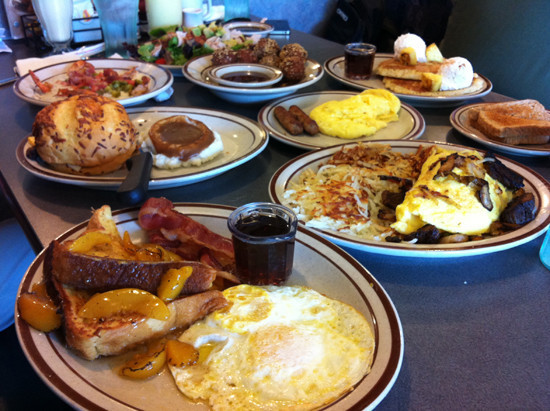 Pacific Northwest Iced Coffee, D-. Even if you're a sweet tooth, you'd probably think this is too sweet. Any taste of coffee is drowned out by what tastes and feels like sweet condensed milk. Overall, it tastes like sweet coffee ice cream, melted in a microwave with ice added.
Midwestern Meat & Potatoes Sandwich: B. Denny's is best when it comes to the basics, and this sandwich is just that. French fries, gravy, and cheese in the meat sandwich may sound like overkill, but it's good when you just have a craving for salt. You can skip the mashed potatoes on the side, unless you are feeling nostalgic about school cafeterias.
Philly Cheesesteak Omelette: C-. Breakfast at Denny's is a decent; it's not hard to make a basic egg, bacon, and toast platter, or an omelette for that matter. However, when claiming to enhance a basic omelette with the iconic Philly cheesesteak, there should be a Philly cheesesteak in it. The cheese was a bit lacking, and there's no sliced beef in it; the meat is basically the chunks from the Midwestern Meat & Potatoes sandwich, wrapped inside scrambled eggs.
California Club Salad: B-. The presentation could have been better, but this no-frills salad is exactly what it claims to be. The turkey is merely sliced deli turkey breast though, but the fresh avocados make up for it — there should be more of those.
Shrimp & Grits: B-. Perhaps this dish gets higher marks than expected because expectations were lowered with the photo on the menu, which didn't make it look too appetizing. The grits by themselves were a little substandard, however, that was fixed by mixing in the tomatoes, bacon, and jalapeños, which gave it flavor and a little bite. The shrimp were also better than expected, peeled and then grilled in some type of marinade.
Georgia Peach French Toast: D. Denny's is usually good about making breakfast, but there is severely some flavor lacking in this one. Neither too salty or too sweet, there was definitely something missing, even with the syrup and the sweetness of the peaches that obviously came from a can.
Florida Orange Milk Shake: B-. If you like Creamsicles, this is the perfect treat. Vanilla ice cream blended with orange juice is exactly what you'd expect it to be. Whether or not the oranges came from Florida exactly is to be determined.
Hawaiian Tropical Smoothie: B+. This blend of pineapple, coconut and nonfat yogurt is probably the most refreshing thing in the "tour." It's not overly sweet, but perhaps a bit too thick if you want to use it to wash all that food down.
Hawaiian Tropical Pancakes: C. The macadamia nuts in these pancakes really do nothing for it's bland flavor, however the "coconut whipped topping" does; it's essentially coconut-flavored cake frosting. With that said, these pancakes actually taste like cupcakes in disguise.
Hawaiian Tropical Pancake Puppies: A-. This breakfast item is more like dessert — a fried one from a street carnival that is, with melted chocolate chips and pineapple inside, and coconut on the outside.
Overall menu: C-. Denny's may be "America's Diner," but there's a whole lot of American lacking in this latest menu. Perhaps they are saving the other regions of the States for another tour of America at a later time, although I'm pretty sure if they stock up on coconut again, there's definitely still going to be a "Hawaiian Tropical" something on there.
Popular in the Community