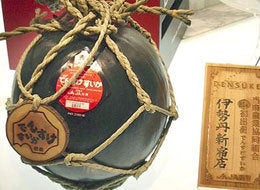 If you think pomegranates are expensive, a man in Japan has just put the $6 fruit to shame. According to the AP, "a jumbo black watermelon auctioned in Japan on Friday fetched a record $6,100, making it one of the most expensive watermelons ever sold in the country."
Apparently in Japan, melons are a luxury item often given as gifts. The black Densuke watermelon is grown exclusively on Japan's northernmost island of Hokkaido, and this particular one weighed 17 pounds.
However, even veteran fruit traders gasped when the melon's buyer made his winning bid this morning. "This is the highest price on record for a Densuke watermelon, and that means it's probably the highest of any watermelon in Japanese history," said Kazuyoshi Ohira, a local agricultural cooperative spokesman.
CNN reports that the buyer of this ultra-pricey black watermelon was a marine products dealer who "said he wanted to support local agriculture."